Explore Rare Maps Online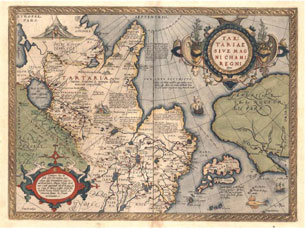 Tartariae Sive Magni Chami Regni, 1584, Libraries Special Collections, MAP129

Whether or not one is a devoted scholar of cartography, one can always marvel at the beauty, scale and just plain oddities of rare maps and their relationship to the spaces they illustrate and information they convey.

From mythical sea beasts and unexplored areas to the carving up of the "New World" by colonial powers, rare maps demonstrate not only changes in geographical knowledge but change occurring in Western civilization's conception of itself.

Combining large-scale scanning techniques, digital-picture software and scholarly research on each map's creation and context, the Libraries Digital Maps database allows researchers to access over 170 color digital images of examples from the Libraries Special Collections Rare Map Collection.

Maps included date from the 16th to early-20th centuries with coverage spanning the world, Western and Eastern Hemispheres, continents, countries and cities. Of note this collection emphasizes North America, the Pacific Northwest, and exploration in this region from the seventeenth and eighteenth centuries. A number of these maps depict the fabled Northwest Passage between Asia and North America with interesting variations on Alaska's coastline as well as apocryphal accounts of the Sea of the West and the Northwest coast.

Also important are approximately 35 maps showcasing the work of 18th-century French cartographer Guillaume de L'Isle. Another significant collection of maps are taken from the atlas, Atlantis Geographicus Maior by Matthaeus Seutter. Additionally, a small number of bird's-eye maps depicting cities in the Pacific Northwest (i.e., Seattle, Victoria and Tacoma) are represented.

The interactive map database allows the user to scroll over the geographic area to filter by region.