Student Architectural Drawings Preserved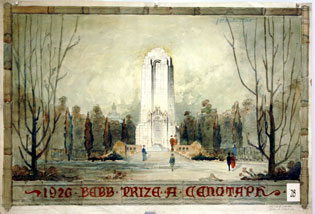 Paul Thiry's Cenotaphe, (Bebb Prize Competition), 1926

In 2006, just prior to the remodeling of Architecture Hall, the Department of Architecture reached an agreement for the transfer of approximately 1,000 original drawings from 1916 to 1961—including the early work of some of the Department's most prominent graduates, some who later became faculty—to Libraries Special Collections.

Through the combined efforts of Professor Jeffrey Karl Ochsner and the Department of Architecture, with funding support from the Department of Architecture, an in-kind gift of flat files from Callison, and cash awards from the Friends of the Libraries and the Libraries Excellence Fund, these important documents were cleaned, conserved and safely housed in archival sleeves by the Libraries Mendery.

A technician is working to create an online presence so that these originals will be available for students to explore the work of UW Alumni whose careers have shaped the architecture of the Pacific Northwest and beyond.

Among the drawings and renderings is Cenotaphe (pictured above) by UW student Paul Thiry. Considered one of the leaders of Pacific Northwest Modernism in architecture, Thiry (1904-1993) began his education at Saint Martin's in Lacey and entered the University of Washington to study medicine. He changed his major to architecture and graduated in 1928. After traveling around the world, he returned to Seattle and worked in the offices of Butler Sturtevant, John Graham and Henry Bittman before opening his own practice in 1929 and focusing on residential work. Thiry designed the award-winning North East Branch of the Seattle Public Library and was the chief architect for the Century 21 World's Fair held in Seattle in 1962.