From the Dean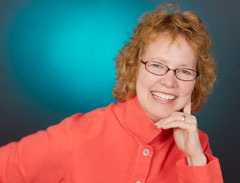 Dean Betsy Wilson
Walking across campus from my bus stop to the Allen Library every day, I navigate through students who are texting, downloading podcasts, listening to music, sharing videos or any number of activities that are possible on their hand-held devices.
As more information is available at dizzying speeds, the Libraries' mission of "connecting people with knowledge" becomes increasingly complex. And connecting students with relevant and trusted information takes on new importance.
The Libraries' online resources are used heavily by faculty and researchers seeking the latest information in their area of study. The Libraries continues as a pioneering WorldCat partner with OCLC, a global consortium of over 71,000 libraries who share a collective 1.4 billion physical and digital resources online. A growing portion of our own physical collections—many one-of-a-kind—are now freely available on the Web.
In the midst of virtual access, our libraries remain a popular "place" to go. Undergraduates, especially, seek out libraries in increasing numbers—to study with classmates, to seek assistance and guidance from an expert librarian, to get help at the Writing Center, to find inspiration or to access the digital world from a computer workstation. The Suzzallo Reading Room, with its vaulted ceiling and wireless connections, is a beloved space for reflection and study. The Media Center in OUGL has state-of-the-art viewing stations for class materials and thousands of mind-stretching videos.
We are a repository and a steward of University documents and history, as well as an archive for much of the history of Washington state.
Guided by input from our users, we are designing the Research Commons set to open later this year in the Allen Library. During the past year we have consolidated lesser-used branch facilities into the Suzzallo and Allen Libraries, and our off-site shelving facility now houses over 1.2 million volumes with twice daily deliveries to campus. Our 7.5 million volumes circulate at high levels and are back on the shelf within 24 hours of return.
How will our next generation of students and faculty interact with information? However they do, we will continue to remain a prominent "place" for the academic community, while guided by human connections and the cutting-edge technology to help us get there.
Best,
Betsy Wilson,
Dean of Libraries
* Photo by Cass Redstone