From the Dean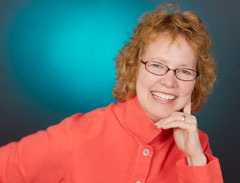 Dean Betsy Wilson
As we gear up for another academic year, our libraries are filling up with new and returning students and their boundless energy, curiosity and dedication.
The Libraries plays such a vital role at the University and in the community.
From the grand and glorious Suzzallo Library beloved by Huskies the world around to the high-touch, high-tech Odegaard Undergraduate Library open 24-hours a day, to the light-bathed Foster Business library, to the high-energy Health Sciences Library, to our anytime, anyplace digital library and many more in between, there is a library for every need and interest.
In our latest triennial survey we learned that:
97 percent of faculty rate the libraries as "very important" to their work, and
93 percent rate us as making a major contribution to their research productivity.
We are working hard to fulfill our mission to "connect people with knowledge"—which is even more critical during a time of budget challenges.

We're creating a Research Commons in the Allen Library to foster a "community of scholars." The Commons is envisioned as a technology-rich space for collaboration for all disciplines, as well as interdisciplinary discovery.

Our humanities, natural sciences, and social sciences librarians have joined together to form a new information team. They are facilitating interdisciplinary teaching and research—a hallmark of the 21st century university.

The Chemistry and the Fisheries Oceanography libraries have been folded into the Suzzallo and Allen Libraries, and we have begun a massive shift of 38 miles of shelving and millions of books and journals to make access easier and more self-evident.

We've found some "lost films" over the summer—early footage of life at the UW. We're working with Intercollegiate Athletics to restore some rare footage unearthed in a storeroom at Husky Stadium.
The earliest football film chronicles the third quarter of the 1936 game with the Minnesota Golden Gophers (which the Huskies unfortunately lost 14-7). I'd say that it's time for a rematch!

In 2004, the University of Washington Libraries was named the top university library in North American. Five years later, we are an international leader—imagining, creating, and realizing the promise of the 21st century academic research library.

I am honored to lead such an outstanding staff whose talents and vision position us at the forefront of connecting people with knowledge.

I do hope you will come visit us in one of our 19 libraries in Seattle, Bothell, Tacoma or Friday Harbor or use our 24/7 online reference service with an expert librarian.

These are exciting times for the University of Washington Libraries —an Any Time, Any Place Library for the 21st Century—and we are pleased to count you among our friends and supporters.

Best,

Betsy Wilson,
Dean of Libraries