Web Portal Links Health Care Pros to Evidence-Based Resources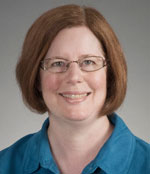 Valerie Lawrence, acting HEAL-WA resource coordinator
The information needs of health care professionals are enormous and ever-changing and evidence-based medicine is becoming the standard. HEAL-WA uses a pioneering approach to improve access to this information.
Heal-WA (Health Evidence Resource for Washington) is an evidence-based health sciences information portal developed by the University of Washington Health Sciences Libraries. Logging on to the HEAL-WA Web site gives electronic access to information to practitioners who do not currently have access to resources through the services of a health sciences library. The site will be funded by an add-on to the license fees of these practitioners.
Improving health professionals' access to information statewide was one of the guiding visions of Gov. Gregoire's Blue Ribbon Commission on Health Care Costs and Access. Legislation (Senate Bill 5930), signed into law in May 2007, encourages practitioners to rely on evidence-based information to deliver health care. HEAL-WA now makes access to this information readily available.
Learn more about HEAL-WA.