'Sounds' of Music: John Vallier Builds Collection from the Region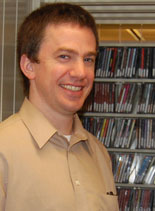 John Vallier brings a locavore aesthetic to music collecting.
Stretching north to the San Juan Islands and south to the state capital of Olympia, the Puget Sound region is home to a diverse network of urban and rural communities. The new Puget Sounds Project, led by John Vallier, head of Distributed Media Services in Odegaard Undergraduate Library, aims to document the kaleidoscopic nature of music performed and produced in this region.
In addition to collecting titles from the region's widely popular acts, the Media Center is collecting works from lesser-known groups and individuals, with a special emphasis on music from independent labels and recent immigrant communities. No style, genre or music culture is being excluded from the project: everything from art rock to hip hop, folk revival to free jazz, classical to new age, freak folk to shockabilly, Latin American folk to Balkan folk is or will be represented.
Vallier also led a freshman seminar called Puget Sounds, in which students scoured the region for new music and reported back to the class on their findings. It was, in Vallier's words, "a huge success! Not only did the collection benefit immensely from the critical selection of these budding scholars, the students enjoyed it so much that they set up a student club modeled after the class."
Unwaxed by Floss, left, and Nine Lucid Dreams by Two Loons for Tea: two CDs in the Puget Sounds project.
Thanks to an initial award of $5,000 from the Friends of the Libraries, the Puget Sounds project has given the Media Center's sound recording collections a regional focus, looking beyond genres and idioms, meeting the needs of students while complementing the Music Library's collection. The Media Center will continue to build, preserve and provide access to Puget Sound music for years to come.