Preserving Russian Architecture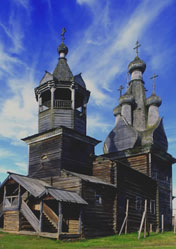 Church of the Odigitria Mother of God in Kimzha, Russia.
On the upper reaches of the Mezen River, in northeast Arkhangelsk province of Russia, one encounters pockets of population that seem to exist in another time. Among them is Kimzha, one of the most distinctive villages I have seen in many years of travel throughout Russia. Most maps do not show this rural hamlet, though it stands near the intersection of two rivers, the Mezen and the Kimzha. Its population varies between winter and summer: a couple of hundred in the winter, and a hundred or so more during the summer, when relatives visit.—From "Kimzha: Down South in the Russian North,,"by William Brumfield, Humanities, Nov./Dec. 2008
In 2006, the University of Washington was awarded a $325,000 NEH grant to complete the digital William Brumfield Russian Architecture Collection, an unrivaled resource on Russian architecture consisting of more than 30,000 photos of notable buildings from the Middle Ages to the present day.
The aim of the project is twofold: to create a definitive, user-friendly image and text database that will be a Web-accessible resource, and to preserve the wealth of visual information contained in this valuable collection of perishable color slides and photographic prints.
The Web site was originally created through a partnership between Professor William Brumfield of Tulane University, the UW Libraries and the UW Department of Slavic Languages and Literatures.
Read more about and view the Brumfield Collection.