Closing with a Bang! iSchool Raises $8.9 Million During Campaign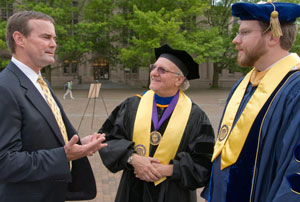 Malcolm Cleary, left, with Dean Emeritus Michael Eisenberg and Matthew Saxton, associate dean for academics. Cleary accepted the Alumna Summa Laude Dignata Award on behalf of his mother, Beverly Cleary, '39.

Last month, the University of Washington completed one of the largest fund-raising campaigns ever undertaken by a public university, raising $2.68 billion in support of students, faculty, programs and research. The UW Information School surpassed its original $5 million goal and raised $8.9 million as part of Campaign UW: Creating Futures.

During the campaign, the UW raised nearly $80 million for the Students First scholarship initiative, which will provide 228 need-based scholarships for students. The UW will match these gifts at 50 percent, contributing another $40 million for scholarships. Under Students First, iSchool donors created three $100,000 scholarship endowments that will allow the iSchool to recruit the brightest and best students.

One of these endowments—the Donald and Lynda Horowitz Endowed Fellowship in Information, Technology and Justice—will support graduate students who demonstrate a commitment to public service with an interest in learning and exploring how information and information technology can contribute to a more just world. The Hon. Donald J. Horowitz, a former Washington state Superior Court judge, currently chairs the Access to Justice Board's Technology Bill of Rights Committee. He also is a member of the iSchool's Founding Board.

Information School Founding Board member Eric Larsen, a principal at investment management firm BlackRock, and his wife Christine established the Eric and Christine Larsen Endowed Fellowship for Innovation in Information Management. This endowment will assist graduate students with tuition, books, conference attendance and travel.

The third iSchool Students First endowment is a consortium endowment created by lead gifts from iSchool Founding Board member Bob Davis, General Manager of Global Technology Services for Microsoft, and the estate of Anita Roberts, '69. Board members Frank Coker, Jaime Green, Alan Johnson, Betty Mayfield, Sherri Rogalski, Tad Sommerville and Marcie Stone also contributed generously to this endowment, which will provide scholarships for Informatics, MSIM, MLIS and Ph.D. students with unmet financial need.

Future UW students also will benefit from the more than 300 scholarships and fellowships created by current and past UW faculty and staff members through the Faculty Staff Retiree Initiative. Under this initiative, current and past UW faculty and staff members established endowments of $5,000 or more, and received a dollar-for-dollar match from the UW—in many cases, doubling the size of their endowments.

Faculty, staff and retiree endowments that will soon benefit iSchool students include: the Scott Barker Endowed Fund for Excellence in Informatics, the Eisenberg Family Student Endowment, the Nancy J. Gershenfeld Endowment for Doctoral Student Support, the Mary Elizabeth Hotchkiss Endowed Travel Fund, the Robert M. & Marilyn G. Mason Endowed Fund for Student Innovation in Information & Society, the Saxton Family Endowed Fellowship, the Robert & Denise Schramke Endowed Fund for Information School Student Support, the C.D. Smith (MLIS 1965) Endowed Fund for Student Support, the Paul Jones Endowed Fellowship in Information Science, the Harry & Lorraine Bruce Endowed Informatics Scholarship, the Bryce Nelson Endowed Fellowship, the Fisher Family Endowed Fellowship, and the Linda J. Gould Endowed Fellowship for Children's and Youth Services.

Another legacy of Campaign UW is the establishment of the Cleary Professorship in Children's and Youth Services. Named in honor of renowned children's book author Beverly Cleary, a 1939 graduate of the school of librarianship, the Cleary Professorship will help address the growing need for librarians in children's and youth services by training at least 10 children's and young adult professionals annually. The Cleary Professorship was established through lead gifts from the Cleary family, Harper Collins, and the King County, Sno-Isle, Pierce County, Spokane County and Yakima Valley Regional libraries.

Dr. Eliza T. Dresang will begin her role as the Cleary Professor this January. Nationally and internationally recognized, her Radical Change theory, which explains youth information behavior and resources in a digital age, has been extensively applied by scholars and professionals across disciplines. Dresang was awarded the prestigious 2007 American Library Association/Scholastic (formerly Grollier) Award for her "unique contribution to reading by children and young people and outstanding achievement in the profession." Her ALA leadership includes election to the governing council, the Association for Library Service to Children board, and the Newbery Award committee chair.

During Campaign UW, the iSchool received $4.9 million in grants, which will largely support research at the school.

The Bill & Melinda Gates Foundation, the single largest contributor to Campaign UW, made a $3 million grant to the iSchool's Center for Information & Society as part of its Global Libraries initiative to conduct research on library systems, library-like organizations, and the environment for public access to information and communication technology in 25 developing countries. Principal investigator Chris Coward will coordinate local research teams to identify the information needs of disadvantaged communities as well as the potential for partnership opportunities with information content and service providers, and like-minded efforts to integrate information and communication technologies (ICT) for development.

The Bill & Melinda Gates Foundation in cooperation with the Institute of Museum and Library Services (IMLS) is also funding a national study conducted by the UW iSchool on the social, economic, personal, and professional value of free access to computers at public libraries.

The UW iSchool wishes to acknowledge all the donors who made this campaign a success and, more important, whose support will benefit our students, faculty, programs and research for years to come.