Next Wine Club Pick-up Party Scheduled!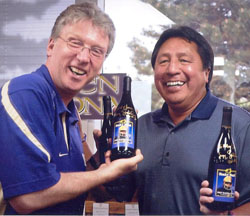 Brad McDavid and Sonny Sixkiller with Husky Custom Label Wines
For those of you who have been inquiring about the next Husky Band Wine Club Pick-up Party, we have news for you! The Husky Band Foundation, in conjunction with Silver Lake Winery, will once again be hosting the event at the tasting room in Woodinville on Thursday, March 8th. While the date is set, the time is still tentative as we are going to hold the party at the same time as the Husky men's basketball team's Pac-12 Conference Tournament game that day. If the Dawgs end up playing in the 12:30 or 2:30 p.m. slots, then the games will be recorded and re-played. Attendees will not only enjoy the same great food and wine that everyone enjoyed at the kick-off event last May, they will also be able to watch the Huskies play at the same time.
The Club's kick-off event last May was a huge success. We hosted 50 people, and event VIP Sonny Sixkiller and Husky mascot Dubs were also present to personally autograph their own limited edition Husky Band Wine Club bottles. The best news is that over $800 was raised that night for the band's operating budget.
As with the initial event last May, Wine Club members are admitted free with non-members being admitted for $10 at the door. You can pre-register for the event at www.huskymarchingband.com. Once the tournament brackets are set, the time will be posted on the band's website and on the Silver Lake Winery website at www.silverlakewinery.com. Current members of the wine club will also receive an email update.
We still have 12 remaining "Founding Member" memberships available. For those who wish to join, membership will entitle you to an additional 5% off any wine purchases at Silver Lake Winery, Glen Fiona Winery and Girly Girl wines or Leone Wines for the life of your membership!
As a member of the Husky Band Wine Club or just by attending one of our Pick-up Parties, you will receive the following:
Special Edition Husky Band and Husky Athletic Custom Label Wines
10% Discounts on all purchases at Silver Lake Winery, Glen Fiona Winery and Girly Girl wines and Leone Wines, in addition to standard discounts, (excluding major events).
25% off additional quantities of the quarterly wine club selections for 30 days after each Husky Band Wine Club Pick up Party
Exclusive Husky Band Wine Club events
Husky Band Wine Club members receive complimentary wine tastings for two people of a featured monthly wine list every time you visit Silver Lake Winery
10% off any Husky Band online store purchases at www.huskymarchingband.com.
By joining the Club, you will receive three shipments per year with each shipment consisting of two special edition "Husky" label wines. Each shipment will be $50-$60, not including shipping. Prior to each shipment, a Pick-up Party will be held at the Silver Lake Winery tasting room in Woodinville. These parties will not only offer free tastings, complimentary food and special guest appearances by Husky legends, but they will also give members the opportunity to pick up their shipment and save on the $14 shipping fee. One shipment per year will also consist of one of Silver Lake's award winning reserve labels at no additional expense.
You can sign-up to become a member of the Husky Band Wine Club at
www.wawineco.com/Washington_Wine/Public/HuskyBand/