Forty Years and Counting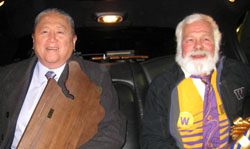 Garry Nakayama and Don Sabo in Limo
While the consistency in the look and sound of the Husky Band can be attributed to the fact that the band has only ever had four directors, that consistency can also be attributed to the longevity of its support staff. As you will recall, last year we celebrated announcer Frazer Cook's 50th anniversary with the band. This past season, we celebrated two more special anniversaries. For the last four decades, the band has been privileged to have amongst its ranks, first as members and later as support staff, Don Sabo and Garry Nakayama.
Don entered the band as a cymbal player in 1965, and, while taking time out for a stint in the Army, spent a total of 8 years as a marching member of the band. He became a field assistant in 1981, and as all current and former members can attest to, has not only been an invaluable extra set of eyes and ears to the director during every single rehearsal but has also lent his creative talents to building incredible props to enhance many Husky Band halftime shows. Don dedication to the Husky Band extends to his family life: he met his wife, Adrienne, in the band and his son, Shanley, just completed his third season as a member of the HMB trombone section. No word yet from Shanley as to whether or not he plans to break his Dad's record for 8 years in the band!
Garry Nakayama has worn many hats with the band over the years. He joined the band as a freshman in 1960 to play snare. After graduating with a music education degree and teaching band in the public schools for a few years, Garry was former director Bill Bissell's first choice to replace the band's previous assistant director, Ray Blank. Garry held the position from 1971 to 79 and was especially valuable to Bill for his experience as a high school marching band director. Due to Athletic Department budget cuts, Garry left after the '79 season to return to teaching high school, but returned in the mid-'80s to begin the role that he has held to this day: the band's press box photographer. We have Garry to thank for the many great shots of the band that have provided all of us with lasting memories of the band's pregame and halftime performances over the years. Not only that, many of Garry's photos have been incorporated into the packaging of the band's CDs and DVDs and the band's 75th-anniversary history book that was published in 2004.
Current members of the band and staff, as well as the Husky Marching Band Alumni Association, officially thanked Don and Garry for their dedication by surprising them at rehearsal prior to this past season's Oregon State game. As the band was getting ready to start rehearsing, a stretch limousine pulled onto the practice field. After the band presented them both with plaques, they piled into the limo and were whisked off to the world-famous Canlis restaurant, where they were wined and dined for the evening. But it doesn't stop there! The next day, Don, his wife Adrienne, and Garry were presented a Kenmore Air trip up to the San Juans, where they enjoyed an overnight stay at the Roche Harbor Inn.
Don had this to say in regard to his four decades with the band: "My 40 years with HMB have provided so many experiences and memories. Participating in NCAA tournaments, Bowl games, International tours, etc. has allowed me to assist in spreading exhilarating Husky Band spirit. The gift that the Band presented Garry and me was a total surprise. Our practice on the East field was interrupted when a limo drove onto the field and Brad revealed the we were being honored for our 40 years of service to HMB. I'm very proud to BE part of our positive organization that consistently performs with 'A TOUCH OF CLASS!' Thanks to ALL of HMB for such a thoughtful gift. I LOVE YOU ALL, GO DAWGS!"
Garry echoed Don's sentiments: "It's been a grand 40 years with the band. I've gone to virtually every Rose Bowl game since 1961 as well as several other bowl games including last year's first time trip to the Alamo Bowl. I've loved every minute of my time with the HMB. And through it all, one thing has been consistent: the spirit and energy of the band! Through the regimes of now just four directors, Husky Band Spirit is alive and well. I think it's what has kept me volunteering to be part of the band for the past 40 years. Being around young people and seeing their energy has probably kept me thinking young. Your gift to me and the Sabos was absolutely tremendous and will never be forgotten!"
Forty years of HMB students and staff have benefitted from the dedication and passion that these two incredible individuals bring to the band. It goes without saying that everyone's Husky Band experience would not have nearly been the same over the years without their efforts, and for that we will simply never be able to thank them enough!