'Notes' from the Director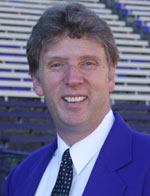 Brad McDavid
Have you ever heard the joke about going to a boxing match and in between fights a hockey game broke out? Then you probably know what I'm getting at when I mention the band's trip this last December to the Alamo Bowl. We went to what was supposed to be a football game but at times it looked more like a track meet, and the score (56-67) resembled that of a basketball game! Nevertheless, no matter what was going on on the field of play, the band gave some of the best performances—both at pregame and at halftime—I have had the privilege of witnessing during my 19-year tenure. From the emails I received from both Husky and Baylor fans alike, it was obvious the band really struck a chord with all the fans during the course of the evening. It was truly a special evening for everyone associated with the Husky Band, even though the team came out on the short end of the score.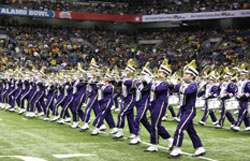 Husky Marching Band takes the field at the 2011 Valero Alamo Bowl
Looking back on the 2011 football season, there were many wonderful events and moments worth revisiting in addition to the Alamo Bowl. I'm sure all current and former members who came together for this year's Varsity-Alumni performance at the first football game of the season will likely never forget being able to perform alongside 70's rock n' roll icon Edgar Winter and his band on his hits Frankenstein and long time Husky Stadium favorite, Free Ride. Perhaps as memorable as the performance was the purple pin-striped suit that Edgar donned that day for the halftime show!
The HMB rocks Six Flags in San Antonio

The last home game for the Huskies produced fond memories, but it also brought about bittersweet moments, as it was the last game in Husky Stadium before its enormous renovation project began. The atmosphere was absolutely electric as the Dawgs took on the Quackers from south of the border. The scoreboard displayed video footage of great stadium moments, and fans welcomed back Husky legends throughout the course of the evening. At halftime, the band performed a musical tribute showcasing great moments in Husky Stadium and concluded the show with the debut of an updated version of our old Pac-10 Medley (appropriately entitled Pac-12 Medley). All of you band alums from the 80's might be interested in knowing that former HMB assistant director and arranger, Doug Cheney (of Louie, Louie, Celebration and Africano fame), arranged the new Pac-12 Medley and was his first new arrangement for the band in over 20 years. Doug did a spectacular job on it and we hope to bring it out again for special occasions from time to time. The bittersweet portion of the evening came with saying goodbye to our beloved Helmet Car, which made its last trek around the track that evening following the final Husky touchdown. The newly renovated stadium will not have a track, though it should be noted that the administration tentatively plans to park the car in front of the stadium beginning in 2013 for fan pictures before games.

The regular season drew to an enjoyable but strange close when the Huskies beat the Cougs in the annual Apple Cup, played in the home of the Seahawks, Century Link Field. The game did however give the band and Husky fans a taste of what next season will be like, as all home games will be played there. The Apple Cup halftime show was once again well-received as the band presented a tribute to the Muppets that included forming a huge Kermit the Frog that danced his way down the field.

The 2012 season will bring many changes and challenges for the band and cheer squad, but until then the Husky Band students and staff will relish the memories of another successful season and second straight bowl game!




Brad McDavid
Director