Where Are they Now?
As you know, I enjoy getting our e-newsletter readers caught up on what's been going on in the life of a former Husky Band member in each edition. This time I decided to feature three band alumni who all entered the same profession: television news. The combined careers of former members Marvin Buenconsejo, Hasalyn (Harris) Modine and Brad Carl span almost 3 decades. I thought you'd enjoy their perspectives, both in regard to the television news business as well as their years in the HMB.
Q: When were you in the HMB?
MB: 1984-1988
HM: 1998-2002
BC: 2006-2010
Q: When did you graduate from the UW and what was your degree in?
MB: I graduated in 1989 with a degree in communications.
HM: 2003 with a BA in English Literature.
BC: I graduated in the spring of 2011 with a degree in Atmospheric Sciences.
Q: What are your fondest memories of your years in the Husky Band?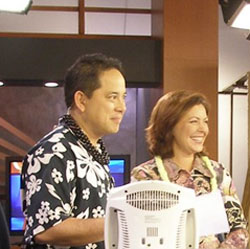 Marvin Buenconsejo and guest on the set
MB: Top of the list has to be making life-long friends. Despite living in Hawaii—some 2700 miles from Seattle—I still call or text my Husky Bandmates George Blas, Keith Bruce, Jesse Vaught, and Doug Graesser. Sometimes they'll visit me in Hawaii. Second on the list has to be winning the Outstanding Rookie Award. For a kid who grew up in a pineapple town in rural Oahu, that was such a huge honor! At the time, I was the only person from Hawaii to ever be in Husky Band! My mom was really proud.
HM: I am not sure I had any evenings in college that rivaled the fun of Friday night rallies in our yellow groove suits. I learned to shimmy in the HMB! I also learned to march! My high school didn't have a marching band, and my only experience in marching was "prancing" from my cheerleading days. I never did stop prancing...for better or worse! I think my favorite part about marching band was of course, being in the trumpet section—because we rocked. Nowadays, I still march when I dance. It's not pretty, but it sure is fun!
BC: I'd have to say my fondest memory with HMB was down at the Holiday Bowl in December, 2010. It was the first time since 2002 that the Huskies got to go bowling and I couldn't have been more thrilled to have stuck around for a fifth year victory lap in HMB. The game was incredible as we stomped Nebraska soundly. After living through the winless season of 2008, my friends and I could hardly believe that the Dawgs had managed to beat the Cornhuskers. It was also my last full band away trip in HMB so I think it'll always be a very fond, as well as bittersweet, memory for me.
Q: Tell us about your early years in television news and how long you were in the position.
MB: I got my big break in August of 1990, when the NBC affiliate in Honolulu hired me to be a reporter. Hawaii is considered a small market, so I got to do it all: news, sports, and anchoring! About midway through my television career, our station's managers decided to put me on the sports anchor desk, primarily because I brought good energy. Needless to say, the viewers in Hawaii got a heavy dose of Husky highlights when my segment hit the air. All told, I enjoyed a 17-year career in Hawaii television—the final three years spent as the morning show anchor.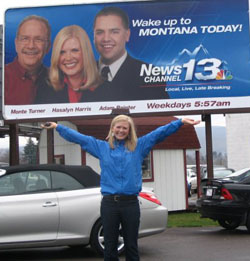 Hasalyn Harris
HM: After college I moved to Missoula, Mont. and started working behind the scenes at the NBC Television station there. Four months later, I moved into an on-air reporting position. Six months after that, I was promoted to Anchor and Producer of Montana Today, the #1 morning show program in Western Montana. It was an amazing job—and a huge responsibility to not only read the morning news to Montana each day, but to also write it. It's also worth mentioning that the hours were KILLER! (2 a.m.—10 a.m.) I can tell you that between 3 a.m. and 4 a.m., almost the whole world was asleep...except for me, for six lonnnngggg years.
In 2008, I traveled to Cuba under a journalist visa to produce a long-form news story about the culture and its budding fly-fishing industry. The work on that assignment sparked a fire in me to pursue filmmaking. That fall, I was accepted to the MFA Program in Digital Filmmaking/Media Arts at the University of Montana. In three years, my (now) husband and I wrote and produced six short films—one of which was featured in Lunafest, a national touring women's film festival. It was also during that time that we launched our production company and its companion blog Aloneinaforest (http://www.aloneinaforest.com). We both earned our MFAs last May and decided to chase our dreams, packing up and moving to L.A. over Memorial Day weekend, 2011.
BC: I just started at KULR-8, the NBC affiliate in Billings, Mont., this last September, so I'm still getting my "on-air legs," so to speak. I'm currently the weekend meteorologist and I also do some general news reporting during the week. I've learned a ton since I first started and still have a long way to go before I can jump into a big market like Seattle or Portland, but I love my job and hope to someday be the chief meteorologist for my station. In fact, Walter Kelley, the chief weather forecaster for Q13 in Seattle was the weekend meteorologist at my station some 15 years ago. I guess that means I'm in good company!
Q: What are you currently doing and why did you decide to make the professional transition?
MB: I currently serve as the communications director for one Hawaii's two members in the U.S. House of Representatives, Congresswoman Mazie Hirono. After close to two decades in television, I'd been looking to make a career change and the opportunity to join the Congresswoman's office simply opened up. Talk about beautiful timing! That happened during the holiday season of 2007 and I've been with Congresswoman Hirono ever since.
HM: Currently, I work in the L.A. office of the Seattle-based marketing ideas agency, Wong Doody Crandall Weiner. I started out in digital strategy, creating video content specifically for the web, but I have since transitioned into broadcast production, where I still produce video for the web, but I'm also now helping to produce bigger projects like TV commercials and radio spots. I feel really fortunate to have found this company and this position—it's rare to be able to move to L.A. and actually be able to work in the "industry."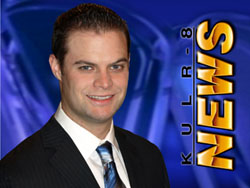 Brad Carl
BC: Right now I'm focused on learning as much as I can about Montana's crazy weather (everything from blizzards in winter to epic thunderstorms and even some tornadoes in the summer). I can't imagine trying to figure out what to forecast without a meteorology degree and even so, Mother Nature still pulls the carpet out from under me from time to time.
I'm hoping that eventually, once I get enough experience, I can claw my way closer to the Pacific Northwest. Spokane, Boise, or even Eugene (despite the Ducks, it's actually a pretty cool place) are a few places I could think of jumping to. I'd eventually like to work in Portland or Seattle, but that will probably be many years down the line. Still, (UW alum) Steve Pool has to retire someday, I guess. In the meantime, I'm still getting used to being recognized in public. I like it, but it's still kind of weird to have people walk up and say 'Hi!' to you in the grocery store when you've never met them before.
Q: Was there anything in particular about your experience in the HMB or UW in general that has served you well in your professional career?
MB: Let's put it this way; after performing in front of 72,000 people, everything else seems small by comparison—even live television. I really credit my years as a member of the Husky Marching Band with leading to the professional success I continue to enjoy. To this day, I still carry the lessons learned from Mr. B. and all the great band mates around me, especially the upperclassmen. What can I say? Dawg for Life!
HM: UW is such a large school, it can be overwhelming and it's easy to feel alone—unless you're in the HMB. The band was like an instant family for me: a group of truly supportive and accepting friends. I felt like, at least in band, I could really be me. I'll never forget that. The "me" that I grew into while in the HMB is the me that found professional success out of college.
BC: I was lucky enough to be the sax section leader my final year in HMB, and that was definitely an experience that helped me in my own career. Leadership, public speaking, organization— they all come into play now for my broadcast job. I'd say being a leader in the band helped to give me the boost of confidence I needed to put myself on a stage in front of thousands of people every time I go to work.
Q: What was your favorite humorous moment as a member of the HMB?
MB: I remember my first-ever official road trip as a rookie. The Greyhound buses pulled up to the old Band Shack as we got set to head to Palo Alto to play Stanford. I'm all excited because it's my first time on a Greyhound bus. So as we're getting in, I turn to the folks in my section and ask, "How long is this bus ride?" Someone responds, "18 hours." "18 hours!" I shouted, "You gotta be [kidding] me!" Once around my island is 2-1/2 hours! That's like 7 times around my island!"
Everyone of course laughed at me. That just seemed like forever! And I'll be damned, to this day that remains the longest bus ride I have ever taken—only to be tied with our trip to Cal the next season. But, as all Husky Band members can appreciate, that's the trip I learned the words to "Bow Down to Washington." In the two decades since graduating from U-Dub, I've come to realize the 'Loyal Band' really will sing the glory of Washington forever.
HM: There might be too many funny moments to count! Perhaps when I punched [section leader] Tameem Bakkar in the face during our Bow Test? I swear it was an accident! I can also say that I would not recommend that anyone else attempt to play the trumpet while wearing roller skates and a [borrowed] construction sign.
BC: I'd have to say "Rick Rolling" Dr. McDavid (instead of our usual "one time") at the end of a rehearsal last year was pretty great. Everyone in the band got a pretty good laugh out of it.