HMB Feature Twirler Finishes Fourth in Nation!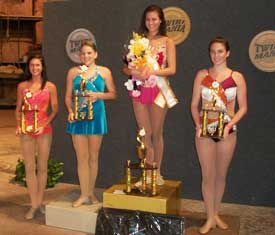 Catherine Watters, second from right, at Twirl Mania
Congratulations are once again in order for the Husky Band's Feature Twirler, Catherine Watters.
Catherine recently returned from the collegiate twirling national championships (a.k.a. "Twirl Mania") in Orlando, where she placed fourth in the nation!
In addition to her fourth-place finish for the second consecutive year, Catherine also won the title of Miss Twirl Mania, finishing first in the solo, strut and two-baton categories. Along with her top-five finish, Catherine is on track to qualify for the 2011 World Championships this summer in Switzerland.
Catherine is the 25th Feature Twirler at the University of Washington and is obviously doing a great job of maintaining the longstanding tradition of twirling excellence. The top four finishers this year were: No. 1, Maryland; No. 2, Virginia Tech; No. 3, South Carolina; and No. 4, Washington.
Congratulations Catherine!