'Purple Reign' Makes Husky Basketball Debut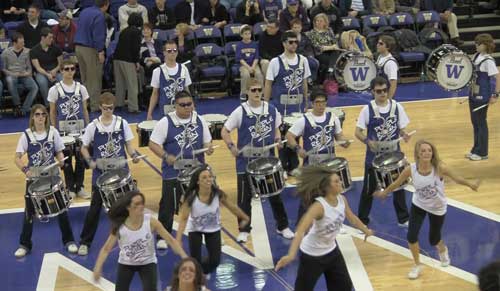 Purple Reign in action!
For those of you who frequented Husky men's or women's basketball games this past season, hopefully you had the chance to witness the premiere performances of a new winter quarter contingent of the Husky Band we affectionately named "Purple Reign."
The group consisted of members of the Husky Band Drumline as well as the Pom Squad. For the group's performance at the UCLA men's game in March, we covered Alaska Airlines arena with even more purple and gold by incorporating a 10-member flagline that consisted of Husky Band members who had previous colorguard experience from their high school band years. The performances, which were choreographed to music over the arena speaker system, were geared more toward the Dawgpack but were well received by everyone in attendance.
Thanks to Husky Band Drumline instructors Nick Molenda and Steve Henry, Pom coach Jessie Mader and Guard instructor Samantha Crilly for coordinating the performances. We hope to bring "Purple Reign" back next year for even more exciting performances at Husky basketball games.