HMB Annual High School Show Plays Sumner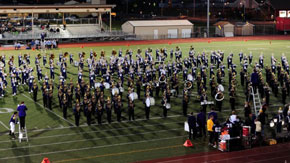 Husky Band at Sumner High School homecoming.
Several years ago the Husky Band and Cheer Squad began the tradition of "running out" and performing for a high school football game. The purpose of these performances is not only to help recruit future members but also serve as a form of community outreach as well as showing the Husky Band's support for instrumental music at the public school level. While some years the band has stopped to perform while en route to a Husky game at Oregon or OSU, this year the band and cheer squad traveled just a few miles south to the town of Sumner, Wash.
In regard to the performance, Sumner High School Band Director, Joe Carl stated: "I just want to thank the Husky Band staff, and all of the members of the band and cheerleaders for giving us their time and making our Homecoming an absolutely once-in-a-lifetime experience. I can't tell you how much everyone here was pumped up by the band being here and by their outstanding performance. There is also no doubt in my mind that the effect of your visit got our football team the win against a previously unbeaten team!"
The band's performance included selections from the Journey show that the band did at the OSU game on Oct. 16 as well as Africano. The pregame show included both bands performing jointly to Grand Funk Railroad's We're An American Band.