2010-11 Husky Band Student Leaders
The success of the band each year depends heavily on our hard-working and extremely dedicated student leaders. Here's this year's talented bunch as well as a little something about each of them.
Student Staff
Undergraduate assistant: Christopher Clarke (Vancouver, Wash.—music education)
Staff assistant: Jonathan Torone (Sammamish, Wash. —DXARTS and screenwriting)
Staff assistant: Brent Nagamine (Honolulu—undeclared)
Uniform manager: Claudia Jacob (Seattle—mathematics)
Uniform manager: Katherine Root (Basking Ridge, N.J.—informatics, interaction design)
Music librarian: Haley Larkin (Southlake, Texas—women's studies and political science)
Attendance officer: Samantha Fossum (Bremerton, Wash.—criminal justice and forensic psychology)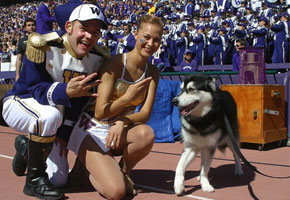 Drum Major Tyler Leitch and Feature Twirler Catherine Watters with Husky mascot Dubs.
Drum Majors
Angel Saucedo (Yakima, Wash.—drama)
Tyler Leitch (Woodbridge, Va.—German, philosophy and English education)
Feature Twirler
Catherine Watters (Santa Ana, Calif.—
ballet performance and Spanish)
Co-ed Cheer Captains
Piper Hanke (Laguna Beach, Calif.—international studies: Europe).
Gavin Ray (Vancouver, Wash.,—European studies)
Pom Captains
Katie Miyagi (Solana Beach, Calif.—economics)
Jessica King (Bainbridge Island, Wash.—speech and hearing sciences)
Section Leaders
Piccolo: Martha Chan (Everett, Wash.—law, societies and justice)
Piccolo: Laura Denney (Bainbridge Island, Wash.—psychology, French)
Clarinet: Jen Arther (Redmond, Wash.—ACMS: stats)
Clarinet: Rachelle Moore (Longview, Wash.—sociology)
Saxophone: Brad Carl (Bonney Lake, Wash.—atmospheric sciences)
Saxophone: Geoff Veld (Vancouver, Wash.—chemical engineering)
Trumpet: Matthew Gillman (Austin— near eastern studies)
Trumpet: Matt King (Bothell, Wash.—history and Latin)
Mellophone: Dan Reisinger (Redmond, Wash.—civil engineering)
Trombone: Eric Siebert (Mercer Island, Wash.—psychology)
Trombone: Lizzie Humphries (Burien, Wash.—sociology)
Baritone: Josh Romain (Pasco, Wash.—biochemistry and chemistry)
Sousaphone: Rob Watters (Sequim, Wash.—philosophy)
Drumline: Josh Chan (Issaquah, Wash.—electrical engineering)