Husky Band Twirler Wins National Competition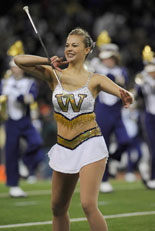 Catherine Watters performs at last year's Apple Cup.
Congratulations to Husky Band feature twirler Catherine Watters. Catherine recently won first place while competing in the Intercollegiate National Championships in Dallas. She won three gold and two silver medals and received the All-Around Collegiate Award for the highest placing in all five twirling categories!
Catherine, who is a sophomore dance major, from Santa Ana, Calif., also recently finished fourth overall in the collegiate division of Twirlmania, held each year in Orlando. This is the second year in a row that Catherine has finished in the top five for this event which is considered the most competitive of all national twirling competitions. The twirler from the University of Connecticut won the overall title this year. With Catherine receiving a first place rating from two of the three judges, we are confident she will bring home that national title next year as well!
Let us celebrate Catherine's achievements for continuing to represent our proud feature twirler tradition in such grand fashion!
* Photo by Dennis Hubbard