'Notes' from the Director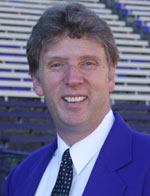 Brad McDavid
If you were in the band within the last 20 or so years, you are probably exceedingly aware of just how popular the Husky Band is in terms of outside performances. However, for those of you who were never in the band, I thought it might be of interest to you to know how much the band is in demand on a year-round basis.
I often kid the students that we seem to be on speed dial for the convention center and many of the downtown hotels because we are continually getting calls throughout the year asking if we could send a portion of the band and/or cheer squad to perform at an event they are hosting. However these pep band performances are not just limited to corporate or charitable events held downtown. A small 18-24 member contingent of the Husky Band will annually perform for as many private parties as gala corporate events throughout greater Seattle.
Upon making the band as a freshman, it is quickly understood that these pep bands, although generally volunteer, have become an important responsibility throughout each student's tenure in the band. It is rare that we are not able to fill a pep band request because each member understands that these performances come with being a part of the University of Washington's most visible year-round public relations organization as well as it being part of our civic duty. They are also extremely helpful in raising additional funds to help supplement the marching band's operating budget.
In a former life when I served as graduate assistant director at Purdue and Ohio State universities, the bands would get occasional requests for small groups throughout the fall but rarely if ever after football season and almost never in the summer. However, just to give you an idea of how popular these types of run-out performances have become here at the UW, last year we sent out 47 pep bands, 29 of them between January and August. The most we have ever sent out during my 17 years was 72 in 1998 (and I have the gray hairs to show for it!).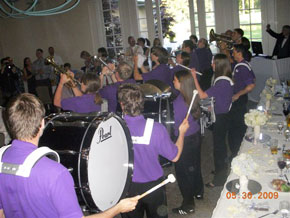 An HMB pep band enlivens a recent wedding reception.
Even though quite a few of the performances are for kickoff events for conventions, the bulk of the private events tend to be for birthday and retirement parties, wedding receptions and even bar mitzvahs. We even get the occasional request to play Tequila! or Louie, Louie at a memorial service. One of the most memorable pep band gigs was provided by a gentleman who hired us to show up at his divorce party to play Celebration (NO, I am not kidding!). Some of the more memorable corporate events have included the kickoff to a Jack Daniels (Yes, THAT Jack Daniels) corporate party as well as the welcome reception for the media attending the 1995 Final Four—which was held at the Pacific Science Center and they were anticipating 1,200 people! However, a storm gripped the Northwest that day delaying many flights and only an estimated 150 people showed up. As a result, the 24-piece pep band and cheer squad were given the green light to eat as much food as they possibly could, food that had been laid out in eight different stations throughout the center. No offense to those of you who did that gig but it was like watching mice in a cheese shop!
I always love the opportunity to showcase the talents of all 240 members of the Husky Marching Band. Thanks to the popularity of the Husky Marching Band, I've had a ball over the years taking these pep bands out on the road too. Hopefully many of you have also enjoyed some of these more intimate, yet always entertaining, performances as well!
Brad McDavid
Director