Q&A with Bob Flennaugh, '64
By Brad McDavid
In 1964, Bob Flennaugh became the first African American to graduate from the University of Washington's School of Dentistry, and after graduation opened his private practice on Seattle's First Hill. Four years later, he joined the UW's dental faculty. He became the first African American appointed to the UW Board of Regents, where he served from 1970-76. Before all of this, however, Bob was a thriving member of the Husky Marching Band! Recently, I had the opportunity to ask these questions of Bob.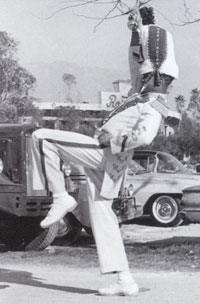 Drum major Bob Flennaugh practices in front of the Rose Bowl.
Q: What year did you graduate from the UW and what was your major?
A: I graduated from the UW School of Dentistry in 1964 with a D.D.S., doctor of dental surgery degree.
Q: How many years were you in the band and subsequently how many years were you drum major?
A: I played tenor saxophone during the 1958-59 school year. I served as drum major during the 1959-60 school year. I entered dental school in September 1960.

Q: What are some of your fondest memories of your years in the band?
A: I was replaced by a new drum major who, for reasons I am not fully aware of, did not finish the year. I was "called out of retirement" to serve with the Husky Marching Band for the three most important games of the year: the homecoming game against USC, the away game at WSU (the travel bus picked me up in front of the School of Dentistry on the way to Spokane) and the 1961 Rose Bowl game.
Q: What are some of your recollections regarding your leading of the band in the 1960 Rose Parade and football game?
A: As previously mentioned one of my fondest memories was the 1961 Rose Bowl game; I was "called out of retirement" for the trip! I remember very fondly the first Rose Bowl in 1960 against Wisconsin. The band members were giddy over being in the sunny weather of southern California at the Rose Bowl which was quite different from the liquid sunshine of the Pacific Northwest. It was so hard for the members to get serious about "practicing" for the upcoming Rose Bowl parade and the pre-game and half-time shows. Our director, Bill Cole, had some official business associated with the Rose Bowl festivities, and left me and the student directors to work on our game-day shows. Some of the happy-go-lucky members were not taking our practice session seriously, so the student directors gave me the responsibility "restoring order" in the ranks. I remember putting on my "game face" and saying "take off those silly hats" and "let's get serious about preparing for the work we came here to do." I surprised myself, but I meant it from the heart and band members knew I was right. I was never as proud of the Husky Marching Band as we prepared and performed in a way that made all of Huskyville and the state of Washington proud beyond measure.
Dr. Bob Flennaugh
Q: Could you tell us, especially the younger alumni who will be reading this, what Director Bill Cole was like?
A: Bill Cole was a graduate of the University of Illinois and came to the Pacific Northwest with excellent credentials as a Big Ten musician and bandsman. He came to the University of Washington after spending some time at Stadium High School in Tacoma. I remember that he influenced many fine musicians (especially trumpet players) from Stadium to join the Husky Marching Band after graduating from high school. He was a professional trumpet player, serving as principal trumpet in the Seattle Symphony. He was highly respected as a no-nonsense band director and producer of excellent game-day band shows.
Q: Looking back on how Bill Cole utilized the drum major position, did he (or you) do anything that impacted the history or significance of the position based on what it had been prior to your holding of the position?
A: I do not recall being utilized in a unique way as drum major. If my memory is correct, I was the last to serve as a solo drum major (no brag, just a fact).
Q: Please fill us in on what you have been doing professionally since graduation.
A: I practiced dentistry for 43 years (1964-2007). I loved my work and my patients, but I felt it was time to step aside and make room for the younger dentists. I had the pleasure of serving on the teaching staff at the UW dental school (1969-70).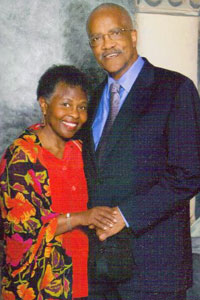 Bernice and Bob Flennaugh have been married for 46 years

.
Q: Could you fill us all in what your family has been up to?
A: My wife, Bernice, and I had the awesome privilege of attending bible study fellowship and then serving as teaching leaders. That was followed by 16 years of training and advising bible study fellowship class leaders in Washington, Oregon, Idaho and Alaska. We retired in 2006. Our oldest son is a criminal defense attorney in Seattle. Our youngest son is employed by Intel as an operations manufacturing engineer. He is currently in Dalian, China, training personnel to operate a computer chip fabrication plant.
Q: I know you had the distinction of serving on the University of Washington's Board of Regents. Could you elaborate on that experience?
A: I was appointed to the University of Washington Board of Regents in 1970 and served as president of the Board for the year 1975-76. I came along at a very exciting time when there were antiwar protests and other arenas of student activism. I was appointed to the Washington State Council on Post-Secondary Education in July of 1977.
Q: Did your experience as a member of the Husky Marching Band, and more specifically the position of drum major, impact your life in any way?
A: I never anticipated the tremendous impact participating in the Husky Marching Band and serving as drum major would have on my life. The experience was instrumental in transforming me from a person who was basically shy to a person who had the confidence to lead. That experience was a key factor in my development for future roles and responsibilities in my dental practice, in bible study fellowship, at the University of Washington and in the community at large.
Q: What advice would you have for current and/or future Husky Marching Band drum majors?
A: Prepare with the mindset that no detail is too small for your attention, and no stage is too large for what you are prepared to offer.