Catching Up with Ray Pennock, '49

By Brad McDavid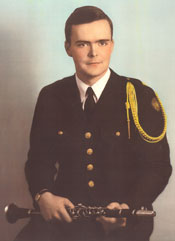 Ray Pennock in 1942
As director, one of the things I never grow weary of is meeting band alums and hearing of his or her experiences while a member of the Husky Band. Of course anyone remotely close to the Husky Band family undoubtedly has met 1936 alumnus and member of the 1937 Rose Bowl band, Bert Pound! However, I was privileged a few years ago to meet Ray Pennock when he attended the Husky Band Foundation's Sneak Preview. Ray, as with Bert Pound, can boast being a member of the Husky Band under the direction of the band's first full-time director, Walter Welke. I sat down with Ray this past summer to hear all about his years in the band and what he has been up to since then. It's a story I definitely wanted to share with all of you.
Ray's recollections of how he first came to be in the Husky Band were quite vivid. He stated that he first met Walter Welke when Walter adjudicated Ray's performance in the state solo competition while a senior clarinetist at Edmonds High School. He stated, "Mr. Welke must have liked what he heard because he kept pursuing me to come to the University." Ultimately Ray did decide to audition for the band and said the entire audition consisted only of one piece that he had to sight-read. It was also interesting to find out that Ray's elementary music teacher and private instructor was none other than noted Seattle musician William Osborne who was also the former solo clarinetist for John Philip Sousa's band. Ray laughingly stated, "Needless to say, we played a lot of Sousa marches in my lessons!"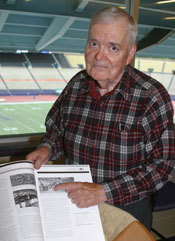 Ray Pennock today
He said the Sousa influence was also prominent in the Husky Band during his freshman year in 1942. This was due not only to the immense popularity of Sousa but also because of the war movement. Being the caliber of player Ray was and having played so much Sousa in his private lessons, he revealed, "I used to drive my section mates crazy in the band by playing all my Sousa parts up an octave!" (Ironically, though, he said that the band would always enter Husky Stadium via the tunnel playing the famous Karl King march "Barnum and Bailey's favorite.") Ray later entered the Army in 1943 after having only completed his first year at the UW. He said neither Welke nor Osborne were very happy when he decided not to take his clarinet with him.
Remembering his year in the band under Welke, Ray recalls that Welke had a very keen ear and would bring mistakes to the attention of the band members "as only Walter could." In regard to his experiences in the band, unlike the Husky Bands of the last few decades, Ray said that aside from home football games, most additional performances were in the greater Seattle area. He said he didn't recall the band traveling to any games outside of Husky Stadium, including the "Washington State College" game that year, and that this was primarily due to war time gas rationing .
World War II affected the band in many additional ways besides travel. Ray showed me a Seattle Times article that he had saved which promoted Husky Band weekly radio broadcasts. These broadcasts were not only meant to be uplifting during the war but each broadcast was dedicated to a different military regiment from one of Seattle's military bases. Although the band did not travel with the football team, Ray stated that more importantly, they played for many war rallies and military tributes that were frequently held downtown at "Victory Square" (adjacent to the current Olympic Fairmont Hotel).
After the war, Ray returned to the UW in '46 and proudly graduated in '49 with his degree. Following graduation, Ray was supervisor of the employee relations department at Boeing, a position he held for 32 years until his retirement in 1986. Although not having been active in the alumni band over the years, Ray has been exceedingly busy donating his time in many capacities throughout the city. In 1999, he was asked to chair the UW 50 year class reunion and has donated over 5,000 hours giving tours at the Museum of Flight. Recently he was also honored by being named the first "director emeritus" after a distinguished history of serving the Ballard Food Bank.
For those who haven't had the chance to meet Ray Pennock, I encourage you to take a drive down to Museum of Flight some afternoon and introduce yourself. I guarantee you'll enjoy his zest for life and recollections of his years in the band as much as I did!