"All of us involved with the Husky Band should be enormously proud of the fact that over the last six years, no other institution has placed more former HMB graduate assistants in Division 1 (large university) athletic band positions than the UW. Here's a recent article on how former teaching assistant, Alex Treviño, is leaving his mark on the band program at Old Dominion University."
—Brad McDavid
Boosting ODU's Spirit with Music
By Matthew Bowers
The Virginian-Pilot
NORFOLK—It's a noisy corner, if you consider xylophones noise.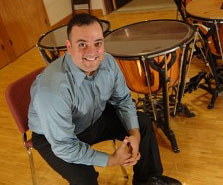 Alex Treviño left the UW to form a new college marching band program at ODU.
Percussion students practice in the halls that cross near Alexander Treviño's windowless office deep inside Old Dominion University, "It was a great opportunity for me to meet a lot of students right away," the 36-year-old athletic bands director and music professor said.
About 100 interested students—including a handful still in high school—have responded to his e-mails or trooped through the office door he had painted school-color blue so it would be easier to find, he said. University officials hope for 150 band members by the time it starts playing. Treviño said his goal is 300.
Along with football, the band is seen by officials and students as a cadenced step in the evolution of the Hampton Boulevard campus from its commuter-school image to a more traditional, residential university.
The band idea sits well with Elizabeth Elwell, an ODU junior from Philadelphia, and her friends.
"It kind of gets everybody in the mood—school spirit and all like that," she said outside the student center. "That's what I hoped would happen. I always wanted to go to a school like that."
They only recently had heard of the band-under-construction, though. There has been a hubbub over the fledgling football team—T-shirts, drink cozies and other football paraphernalia already are on sale in college stores. The marching band has been more of a stealth project, with no T-shirts and little buzz outside the music department.
Treviño is working to change that. He came to ODU from the University of Washington, close to completing his doctorate, for the chance to teach, as well as form and direct a marching band.
Before that, he gained some marching-band fame by inventing what has become a signature maneuver at the University of Tennessee: the "Zipper-T," where the formation separates and reforms as a drum major sprints through it.
Since July, he has visited high schools, conducted clinics, and judged competitions. He picked a lion-on-shield logo for mailings to high-school students, urging them to "be part of history; be part of the future." He started a Web site touting the fun of being first, and a computer database of issues large and small, down to whether to assign uniforms to students for the entire season, or to check them out for each game.
As with the football team, 2008 will be a "redshirt," or unofficial playing, year. They'll practice, march in parades, and perform at high school games and in exhibitions at high school festivals.
"We'll figure out what we are," Treviño said.
But he's thinking about 2009. Expect different shows each home game, he said. The drum major will twirl and toss a mace. They'll play to all parts of the stadium, so no one feels left out. Pregame rituals will include the ODU fight song, as well as saluting opponents with their fight songs.
"It's just a classy thing to do," Treviño said. "The band isn't there to be rude. ... We are ambassadors for the school."
He also isn't interested in polite applause.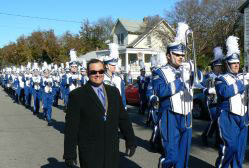 Alex Treviño and the ODU marching band

"It has to be a presentation that guarantees ... that concession sales drop each time, because nobody wants to miss the show," he said.

Treviño and other founding directors of college bands interviewed said they know traditions will evolve, but some can be created, too. Treviño has one in mind. Early on game-day Saturdays, he plans to line up his band in the new dormitory quadrangle in the center of the campus and practice the school fight song to, literally, awaken some school spirit.

"I'm going to call it 'Breakfast,'" he said.

William Pease, a Virginia Beach native who started the University of Virginia band in 2004, was consulted by ODU. He predicted success here, because of the area's strong high school band culture. He also noted that most band members don't come from the music department.

"He's not recruiting for just the music program; he's recruiting really for the whole university, with all the non-music majors out there," Pease said.

ODU students said they know friends who went across town to Norfolk State University because of its tradition-rich Spartan Legion Marching Band. In one sign of change, Lexi Borza, a freshman from Virginia Beach, said she enrolled at ODU because she figured a band would follow the football team. She rushed to be the first to sign up.

"Hopefully," the music education major said, "one day I want to come back and say, 'Wow! Look at that marching band, that great marching band. ... I was one of the first people.'"

Greg Hausmann, a sophomore from Woodbridge, Va., who also wants to play, said a band "will give us more of a bigger, collegiate feel."

Added Will Moore, a freshman from Newport News: "What's a football game without a band?"

*

Reprinted with permission of The Virginian-Pilot