Meet Husky Band & Cheer Alumnus Rod Mar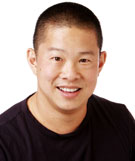 Rod Mar
Rod Mar worked as a staff photographer at The Seattle Times for nearly 20 years, specializing in sports photography, before embarking on a freelance career earlier this year. Over the past two decades, Mar has captured the highs and lows of Seattle's sports scene and made compelling portraits of its biggest personalities. He has covered major sporting events such as the Super Bowl, the NBA Finals, the NCAA Final Four, bowl games, golf's major championships and, most recently, the Olympic Games in Beijing, China, which he terms, "a dream assignment."
While at the Times, Mar's popular blog, Best Seat In the House, was read nationally and internationally. It has been excerpted for textbooks and has also been translated into numerous languages. His new blog, Beyond the Best Seat in the House, can be found at his Web site. He was won numerous awards and his Sports Portfolio was recognized in the most recent Pictures of the Year International photo competition. He is a popular speaker and teacher and will be an instructor at the Sports Shooter Academy in Californiat this spring. A Seattle native, Mar lives with his wife Kari, daughter Evyn and son Damon.
Q. What years were you in the band and cheer squad?
A. I was in Husky Band (trumpet) from 1981-84, and cheer in 1985.
Q. What are some of your fondest memories of being a Husky?
A. While I have great memories of marching in both the Rose Bowl and the Orange Bowl, most of the best memories of my time in band revolve around the camaraderie and friendships one develops during rehearsals, on bus rides and road trips. I still have close friends that I met while in the band.
Q. Of all the games you viewed as a student, which one sticks out most in your mind?
A. As I mentioned earlier, the 1982 Rose Bowl and 1985 Orange Bowls were very memorable—the Husky football teams then were amazing. However, one game that truly sticks out in my mind is Washington's defeat of third-ranked USC at Husky Stadium in 1981. The weather was typical Husky football weather—dark, windy and rainy. Earlier that year was another memorable game, when former yell leader Robb Weller started "The Wave."
Q. When did you begin to develop a love for photography and photojournalism?
A. I was never one of those kids who always had a camera in my hands growing up. Nor did I work for the high school newspaper or yearbook. It wasn't until my final year of college that I was introduced to photography by family friends who photographed for the UW Athletic Department—Bruce Terami and Joanie Komura. They taught me about photography and it was Joanie who pointed out to me that with my love of sports I could be come a good sports photographer.
Q. During your years in the profession, what have been some of your favorite events to photograph?
A. My favorite event to photograph was definitely last summer's Olympic Games in Beijing. Shooting the Olympics was a dream come true for me on so many levels—my Chinese ancestry, my love of all sports and my passion for photography. When I do speaking engagements I like to tell people that for me, the Olympics was like a great summer camp as a kid—a new adventure to look forward to every day while spending time with old friends and new.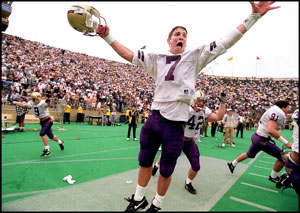 Husky Damon Huard celebrates after UW's win over California in 1993.*
Q. What is your favorite sports-related photo?
A. When you work as a newspaper photographer, every day brings about a new assignment, and what was new this morning is wrapping fish at the Pike Place Market by afternoon, so it's hard to get too attached to certain photos. One of my favorite images that is Husky-related is a photo I took of Damon Huard back in 1993 at California when he led the Huskies to an improbable come-from-behind win. I love his expression—it says so much about college football and it's a frame that would be very unlikely to find at a pro game.
Q. Do you have a favorite non-sports related photo?
A. In recent memory, I have many images I love from our recent election night. People flooded the streets to celebrate Barack Obama's election, and it was amazing for me to be out on the streets photographing huge crowds of people singing and hugging and celebrating—not looting and rioting as I've witnessed on those same streets in the past.
Q. In light of your recent decision to leave the Times, could you tell us what your future professional plans are?
A. I left the Times after nearly 20 years to pursue new challenges. Like running my own business is exciting and challenging—so far my clients include the Seattle Seahawks, the Seattle Sounders F.C., ESPN and the New York Times. I also teach workshops and speak at various photographic events around the country, and am doing some consulting as well.
Q. Could you give us a brief background on your family?
A. I'm a third-generation Chinese-American, and the oldest of three kids. All three of us were in Husky Band! My brother, Arnie, played clarinet from '82-'86 and my sister, Diana, played clarinet from '90-'94. My wife Kari is the most amazing person I've ever met, and I have two great children—my daughter Evyn is 10, and my son Damon is 8. So far, the "sports bug" has caught both of them, and we're working on the music side!
*Damon Huard photo by Rod Mar / Seattle Times