Welcome to the Neighborhood: Filiberto Barajas-López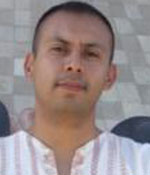 Filiberto Barajas-López
Filiberto Barajas-López joins the UW College of Education as an assistant professor of secondary mathematics education in the area of Curriculum and Instruction.
As Elham Kazemi, his colleague in mathematics education, states, "We are very fortunate to have Dr. Filiberto Barajas-López join the faculty in the College of Education. Through ethnographic and narrative inquiry, he studies the nature of learning for immigrant Latino youth in secondary mathematics classrooms. His complex understanding of schools guides his commitment to develop spaces in which schools and communities engage in collaboration to create democratic and just schools. The mathematics education program will benefit from his ability to tackle central questions about race, language and culture in schools and prepare secondary mathematics teachers to develop equitable teaching practices."
Barajas-López obtained his Ph.D. at the University of California, Los Angeles (UCLA) in mathematics education. Previously, Barajas-López received an M.A. from Claremont University in secondary mathematics education and a B.A. in mathematics and politics from Occidental College. His UCLA dissertation was titled, "Between the Border of Hope and Despair: Immigrant Student Narratives on Schooling and Mathematics Learning."
A National Science Foundation Diversity in Mathematics Education Fellow at UCLA, Barajas-López worked with Dr. Megan Franke on the research that eventually led to his dissertation work. As he explains, "Through this study, I attempted to understand the convergence of schooling, language, culture, community and mathematics learning to depict students' 'educational lives' through the K-12 pipeline. The intent was to gain insight into the schooling practices and structures of schooling that students perceived as obstacles and/or borders throughout their schooling. Students' stories were important in attempting to explain academic failure, disengagement, and 'pushing-out' from their own perspective."
Previously, Barajas-López has was a secondary mathematics teacher, a teacher educator in higher education, and a researcher. He asserts that these experiences have given him a strong foundation of knowledge about multi-dimensional initiatives in his chosen research areas and have reaffirmed his conviction to develop "democratic and just schools for students."
Barajas-López cites faculty as his primary reason for selecting this post. "My assumption all along was that the faculty at the UW College of Education valued its commitment to support communities and schools," he explains."These assumptions were confirmed when I visited UW and found faculty to be responsive to my interest in working with families, schools and community-based organizations with the intent of helping develop and create democratic, equitable and humane institutions. It was then that I decided that the UW College of Education would be the ideal place for me to develop as a scholar. It would be a gift to learn and contribute to such a talented group of faculty."
Barajas-López hails from Mexico, specifically from Purepecha lineage with "roots in the states of Jalisco and Michoacan." In his spare time, he watches football, both professional matches like the World Cup and his three children's games. He also plays guitar, creates art, travels, gardens and explores the outdoors.