Hands-on Science on the Olympic Peninsula
Kieran O'Mahony is co-principal investigator (Co PI) with John Bransford, principal investigator (PI), on a new NSF Rapid Response Research (RAPID) grant that investigates cultural and scientific issues regarding the removal of two dams in the Elwha watershed.
O'Mahony and Bransford are working with residents in the Elwha area of the Pacific Northwest to study and document the impact of mediating outdoor experiences in relation to the dam removal and habitat restoration in this valley. There are many projects, scientific and mathematic in nature, that the project is tapping into.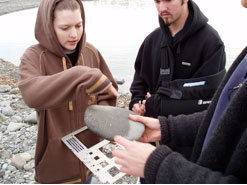 Students measure cobblestones on the beach.
The Olympic Peninsula is where the Elwha and Glines Canyon Dams were installed on the Elwha River in the early years of the last century. These dams dramatically altered the landscape, creating lakes out of meadowlands, which displaced people and animals. For example, salmon were prevented from returning to their traditional spawning grounds. Furthermore, the tribe's people were resettled in a reservation near the mouth of the river. Their historic Creation Site is now located somewhere beneath Lake Aldwell and has not been part of their cultural activities and education for nearly 100 years.
In February 2011, the dams will be removed; partially to avoid the expense involved in bringing them up to code, and partially due to a concerted opposition by environmental groups. O'Mahony and his colleagues at the NSF Learning in Informal and Formal Environments (LIFE) Center launched a learning sciences study with local youth around the removal of the dams.
As O'Mahony explains, "The RAPID NSF grant is only for one year. We plan to apply for a multi-year grant to continue with longitudinal work as it will be 10 years before this landscape settles after dam removal. For example, tributaries in this valley upstream are spawning ground for steelhead salmon and the future livelihood for local tribes depend on their evolving population. So what happens to the salmon after the dams come down? What happens to the valley, and the inhabitants that rely on the river and shoreline for their livelihoods?"
Collaborating with seventh-grade students and teachers from Elwha region schools, O'Mahony and his team are working on the science of this project. They hope to provide these students with a pipeline to higher education in STEM related fields at the University of Washington and other third-level institutions. Historically the school dropout rate is around 50% in this region.
"Up to this point we've been capturing baseline data on youth in schools," O'Mahony states. "As learning scientists, we are working with different schools in the catchment area of the valley to undertake focused research in that blended space between formal classroom settings and informal outdoor settings. There are about 3,000 plus students in the area and we are working with the middle school groups where we research the impact of different mediated pedagogies and experimental methodologies on learning and motivation."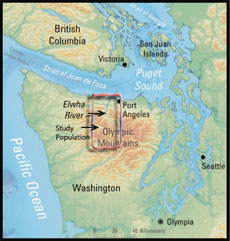 Pacific Northwest and the Elwha River
This grant provides opportunities for these local youth, most of whom are Native American, to learn about the native plant species, to track the sediment as it gets distributed downriver, to record the restoration of the near-shore areas, and to consider the scientific implications of dam removal on the environment. Throughout all of this, they will be working with professional scientists and botanists to learn first hand by practice and to pose question about anomalous issues. O'Mahony's team is gathering data to analyze the process and understand the outcomes.
"The research we do before the dams come down is invaluable for the restoration process and the revival of a historic community," says O'Mahony. "The story of this event will be told and the tellers of that story will be the new generation of Elwha people. It really is their story, their voices and their science."

The project involves twenty-first century skills in the area of technology and video-narrative exposition to engage in digital storytelling.
"Our goal is to have these students be the tellers of this story, so that they feel connected to their landscape, the science around it and subsequently to their own futures in this area of endeavor as they disseminate the knowledge to the world outside their valley."
One local tribal resident, Hazel, was three years old when the first dam was built. She turned 100 in May 2010. Hazel recalls her father and grandfather telling her that their traditions were altered after the dams were built. For example, canoe trips and vision quests (a several-day journey for adolescents to reflect on their lives, find their strengths and understand their challenges) could no longer be done on or around the traditional sites by the river.
"The elders tell us that two generations have been lost to this traditional world, since they were displaced from their homes," O'Mahony states. "They are not stuck in history and understand that it is a living culture with changing circumstances. Nevertheless, some sites are important for their cultural events and historical connections. Consequently, they are excited to get the meadows and natural flow back so they can again visit the places and carry out festivities and medicinal plant gatherings around those original sites."
This project also includes a mentoring role for University of Washington honors students, undergraduates who freely give of their time to partner with the middle school children. They engage in collaborative inquiry through technology and media devices around questions that interest the children for their science projects. Earlier this spring, 15 honors students spent a week in the peninsula visiting river and coastal sites, and getting to know the school children that were collecting data for their classroom science projects. Later, they hosted these same middle school children at the UW for a day, where they got to display their work and make presentations to an enthusiastic audience that included Bransford, Professor Nathalie Gehrke, and other College of Education faculty. Teachers and students said that their lives were changed because of the tremendous experience. This idea of opening a very visible pipeline link between Elwha region grade school and university is central to the mediated experience for this research.
"It's a tremendous project and I'm honored to do this work," O'Mahony states. "The kids are incredible learners, the teachers are hungry to learn, and the scientist that we get to work with in all aspects of the restoration project are fabulous people and great educators."
Jerry Freilich, chief scientist in the Olympic National Park summed it up when he stated a view about the value of this landscape for our children. "This is the greatest imaginable paradise. I can't imagine that most people, no matter how their normal life is lived, even the most urban dweller, the most citified person, when they come out here and see this blue sky, smell these flowers; and they look at this spectacular scenery; they just have a great moment of self realization. It's something deep-wired into humans to appreciate places like this."