Welcome to the Neighborhood: Meet Clayton Cook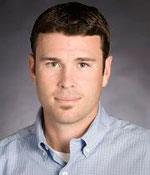 Clayton Cook
Clayton "Clay" Cook joins the College of Education as assistant professor in Educational Psychology. He is currently an assistant professor at Louisiana State University, where he conducts research and teaches courses in school-based interventions and psycho-educational assessment. His research focuses on the development and implementation of multi-tiered, mental health service delivery systems based on response to intervention logic. His aim? To improve school-based practices for students with or at-risk for mental health problems.
"This research involves three interrelated strands of inquiry," Cook explains. "The first is the development and validation of universal screening and progress monitoring tools for social behavior. Second is the evaluation of interventions to include in the tiers of support. And third is transferring what we know works from scientific research to improve the social, emotional and academic well-being of students to real world educational settings, i.e,. effectiveness research. When one looks at the outcomes associated with students with mental health problems, it becomes apparent that education is in many ways a broken system for these students. Students with mental health problems are the most under-identified and underserved subset of students in the American education system."
Cook earned his Ph.D. at the University of California, Riverside, under the supervision of Dr. Frank Gresham. During this time, Cook worked on a federally funded grant exploring the use of evidence-based practices for students with the most serious emotional and behavioral disorders, as well as on a Youth Violence Prevention project. He is currently involved with several lines of research, including work as the co-principal investigator on a four-year IES Goal Five measurement project that is devoted to developing such tools to enable educators to make formative, data-based decisions regarding a student's response to intervention. Additionally, he is working on the issue of African-American male overrepresentation in negative practices and outcomes associated with school (e.g., office referral, suspension, placement in restrictive settings, identification as a person with intellectual disability).
After his doctoral work, Cook completed an APA-accredited internship in the Behavioral Pediatrics and Family Services Outpatient Clinic at Father Flanagan's Boys Town in Omaha. As he states, "My clinical experiences focused on direct services to resident youth, school consultation, consultation with professional staff, and risk and culpability assessments. I worked with residential youth who presented a broad range of clinical problems. Diagnostic profiles of the youth varied widely but included conduct disorder, affective disorders, anxiety disorders, substance abuse, and clinical exotica, such as Tourette's syndrome, trichotillomania, enuresis/encopresis."
Cook is a credentialed school psychologist in the state of California. His most recent honors and awards include: Graduate School of Education Graduate Student Fellowship (2003-2005); accepted to Center for Disease Control and Prevention's Summer Institute on Youth Violence Prevention (2005); Mark Shinn Award of Excellence–2nd Annual RtI Expo University of California, Riverside (2006); Association for Behavior Analysis Student Presenter Award (2007); Wing Institute Research Grant ($5,000); Louisiana State University, Summer Research Stipend ($5,000).
When asked why he wanted to join the UW community, Cook says, "I chose the UW College of Education for a number of reasons. The first was my desire to carry out my professional interests and responsibilities at an institution that is located in an environment that is conducive to my passion for outdoor recreation—Seattle offers this. Second, I was excited at the possibility of working alongside Drs. Mazza and Jones to help maintain and perhaps strengthen the School Psychology Program's excellence in teaching, clinical supervision, and research. Third, I met many brilliant scholars within the COE during my interview. It was apparent that these faculty members were not only brilliant scholars, but very nice people too. Last, I would be remiss if I did not mention the appeal of working in one of the top Colleges of Education in the nation. The prestige of the UW College of Education was also a factor that influenced my decision. Collectively, these factors combined to make it very easy for me to accept the offer at UW."
Says former Dean Pat Wasley of Cook: "I am just thrilled that Clayton has accepted and will be joining us! We are incredibly lucky to have him on board and joining our college community."
In his spare time, Cook enjoys travelling and outdoor recreation, such as hiking or running. He enjoys collegiate, professional and international sports and attended the 2010 World Cup in South Africa this past summer.