Dedication Leads Myers Twitchell to Graduate Leadership Award
The College of Education is proud to award Jenée Myers Twitchell the 2010 Graduate Leadership Award. This award recognizes Myers Twitchell's outstanding leadership at the College of Education and the University of Washington.
---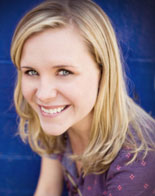 Jenée Myers Twitchell
"Leaders are individuals who ask hard questions and then bring together people who can best answer those questions to make change. So leadership involves understanding pieces of the big picture and the details of a situation. But it also involves the ability to truly collaborate with other folks who have the best expertise in an area."—Jenée Myers Twitchell
Jenée Myers Twitchell is a student, staff member and adviser at the UW College of Education. In fact, from an outside perspective, it might be difficult to untangle her professional, academic and personal interests.
Currently enrolled as a Ph.D. student in Educational Leadership and Policy Studies, Myers Twitchell has been dedicated to education for many years. The first of her family to attend college, she co-founded the now legendary Dream Project program with several friends. As she explains, "We wanted to create a program that helped undergraduates learn about issues related to social equity and educational mobility and to help recruit more students who would be first in their family to go to college."
The Dream Project, whose high school alum can now be found at more than 50 colleges and universities, led Myers Twitchell into a post-undergraduate career as she scaled up the Dream Project scope and worked with undergrads as well as high school students on college access. During this time, Ed Taylor, vice provost of Undergraduate Academic Affairs, and Tom Halverson, College of Education senior lecturer, encouraged her to pursue a graduate degree in Educational Leadership and Policy Studies.

Yet Myers Twitchell also works as an education diversity recruiter with the Office of Minority Recruitment and Retention and as an adviser for the Education, Learning, and Society Minor. As she describes her work, "A lot of my work aligns with the pipeline through which undergraduates move both from high school or community college to university and then from the university to jobs or graduate school. As academic adviser for the undergraduate minor I get to work with more than 500 undergraduates in lots of different ways, such as helping them think through their undergraduate career and what they want to do after."
As adviser for the Education, Learning, and Society Minor, Myers Twitchell advises students individually and teaches the undergraduate education colloquium every quarter. Her impact in this role is nothing short of incredible.
As Erasmo Gamboa, a UW associate professor of Chicano Studies and adjunct associate professor in History, and Latin American Studies, asserts, "Jenée is indeed a very remarkable graduate student. The breadth and degree of her leadership with the ELS Minor and accomplishments in the Colleges of Arts and Sciences and Education is impressive. Jenée has exceeded all our expectations and this recognition is more than well deserved."
Myers Twitchell feels fortunate that her work with undergraduates in the minor often overlaps with her work on the Dream Project.
"I love when my worlds combine," Myers Twitchell says. "The high school students become UW students. The UW students become education minor students. The education minor students go on to become graduate students at the College. We are just starting to see this full pipeline and it is very exciting."
Myers Twitchell speaks of the Dream Project and the Education, Learning, and Society Minor as her main passions, communicating that she is bound to Washington because of her interests in seeing these programs grow and thrive within the broader framework of Washington educational policy. In fact, she sees her graduate research as a means to inform herself and, ultimately, improve her professional work with these jobs.
"Academically I am really interested in the way that programs or policies work to improve the lives and to create positive outcomes among first-generation underrepresented high school and college students. I like to look at higher education intervention programs, like access and persistence programs, through the lens of implementation research with my adviser, Meredith Honig. In my current work, I'm lucky that I get to hear the students' stories but I also want to work on the side of policies and programs that involve the leaders and the mentors who are running these same policies and programs."
Recently, Myers Twitchell and her co-investigator, Robin LaSota, conducted a research study on the first cohort of Education, Learning, and Society minor undergraduates. A mixed-methods study, it included a survey as well as individual and group interviews. They presented their findings at the American Educational Research Association (AERA) conference and received a great reception.
"We presented on findings surrounding students' interests and capacity to go into teacher education," Myers Twitchell states. "And so we found that the three factors that students most stated were influential in surveys and interviews in the pipeline to becoming a teacher were first their individual characteristics, their demographics and stories, combined with the field experiences and service learning opportunities they were able to have as undergraduates at UW, all supported by the creation of institutional infrastructure that I think is bound together by the creation of the minor. So those three things combined have made many of our students become interested in teacher education and have supported them in pursuing that goal."
She explains that this population, which is defined as pre-pre-service teachers, captures students who are "in the middle of choosing whether to become a teacher," which is typically a difficult population to define and study.
"That was an unexpected surprise but it makes a lot of sense," Myers Twitchell says. "Not a lot of university programs have a way of capturing information from students who are in the midst of a decision-making process. The minor allows that because it is not a full-on major but students are allowed, within an institutional infrastructure, to think about and ponder careers in education. So because of the questions we got about follow up surveys and research about these cohorts we were able to conduct a follow-up survey this spring."
From advancing the mission of the College in three different roles to capturing a new definition of students in the education continuum, Myers Twitchell is clearly a lynchpin of the community.
On behalf of the entire University of Washington College of Education community, congratulations Jenée!