Longtime Educator Mark Johnson Is 2010 Distinguished Grad
The College of Education is proud to award Mark Johnson the 2010 Distinguished Graduate Award. This award recognizes Johnson's ongoing commitment to educational excellence, access, and equity as an alumnus of the College of Education.
The Distinguished Graduate Award was established in 1986 and is awarded annually to a College of Education graduate of marked distinction.
---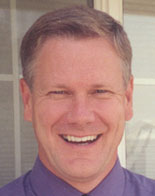 Mark Johnson
Mark Johnson graduated from the Leadership for Learning Program in 2006 with an Ed.D. (Doctor of Education). Prior to this, he had obtained a superintendent's credential from the University of Washington as well as a Master of Education Principal's Credential and B.A. in education from Eastern Washington University.
Johnson currently is the superintendent of the Nooksack Valley (Wash.) School District, a position that has earned him several honors. In 2009 he was named Washington State Superintendent of the Year and in 2002 he won the Washington Association of School Administrators (WASA) Administrator of the Year Award. He modestly credits some of this personal success, as well as a long list of awards, to the Nooksack Valley School District, the Leadership for Learning program (whose teaching he has successfully applied to his professional role), and the school system. Johnson further emphasizes that any personal or district recognitions are truly "team" awards for his talented, dedicated team in Nooksack Valley. As modest as he is, there are plenty of others bragging about Johnson's great work.
Says Paul Rosier, executive director of the Washington Association of School Administrators, "Mark is not only one of the outstanding school district superintendents in Washington, he is among the best school district leaders in our country. His work with the Nooksack Valley School District has received national recognition for significantly increasing student academic achievement. He is in demand all across the country to share his knowledge and expertise. Mark is truly worthy of this honor."
Johnson was in the initial Leadership for Learning cohort, which he selected due to the cohort-based learning, flexible structure, program instructors and "focus on how 'system leaders improve teaching and learning' and the overarching emphasis on social justice and equity." At the time, he was already working as a full-time superintendent.
Johnson's career path followed in the footsteps of his father, who also was a Washington school superintendent. Of this similarity, Johnson states, "He always fought for what was best for the children in his charge, and I have attempted to live up to the courage and will he displayed daily in that regard."
The 2010 Distinguished Graduate Award was given to Johnson for those same qualities. Mike Copland, faculty member at the College of Education and the lead nominator for Johnson, initially met Johnson when both were assistant principals in the late 1980s, Johnson in Nooksack and Copland in Bellingham (Wash.) school district. Over the years, Copland and Johnson have worked together on a number of projects. When Johnson was a student in the Leadership for Learning program, Copland was his capstone adviser.
Copland elaborates on other work stating, "I have worked with Mark and his administrative team in a consulting role for various purposes including working with him on his system theory of action, and with the Nooksack principals on supporting their inquiry-based work on problems of practice in their schools. Nooksack Valley was featured as a district case in the book that Mike Knapp and I wrote based on our first wave of Wallace Foundation research. Mark has also been working for the past couple of years as a consultant for the UW Center for Educational Leadership, teaching alongside Sandy Austin (former assistant superindent in Nooksack and an L4L grad) and myself in a new network that we are supporting in Idaho.
"Mark Johnson's greatest strength is that he understands that his own learning about how to lead ever more effectively must continue if the district is going to accomplish even greater results. He exemplifies what it means to be a 'learning-focused leader.'"
As a superintendent, Johnson enjoys the opportunity to "improve teaching and learning for children" and to establish strong collaborative relationships with his peers and colleagues. When asked to name the most pressing educational issues of our nation he lists funding to improve schools and an inability to respond to change quickly. He elaborates, "It often seems that schools and school systems are at a place where 'good' is good enough. Moving from good to great requires a degree of courage and will that often can be generated with a renewed sense of urgency."
With a reputation as a highly skilled superintendent, Johnson is a fine example of a leader who has obtained results for the Nooksack Valley School District by focusing on the continued improvement of educational offerings through practice-based changes, collaboration and a spirit of optimism.
On behalf of the entire University of Washington College of Education community, congratulations Mark!
---
Past recipients of the Distinguished Graduate Award have included Dr. John Corbally, former president of the MacArthur Foundation, and Harold Morse, promoter of the Educational Television Networks' The Learning Channel and Ovation–The Arts Channel. In 2007, Drs. Lynda King and Daniel King, both UW College of Education graduates, were jointly honored for their nationally recognized work in the study of trauma and its effects on children and the treatment of those effects. In 2008, we honored Washington state Governor Christine Gregoire for her longstanding commitment to education. In 2009, Deborah Deutsch Smith was acknowledged for improving education for children with special needs.