Grapes for Good: Ackerley Partnership Benefits from Wine Sales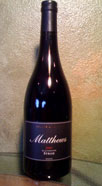 Twenty-five percent of the syrah's profits will help education.
Drink your vino to benefit local schools. At least, that's what Matthews Estate Wines is hoping for.
Matthews Estate, a Seattle-area winery, recently released its 2007 Blackboard Syrah, of which 25 percent of the proceeds will go to the Ackerley Partnership. The Ackerley Partnership provides resources for 24 Washington schools to improve student learning and train new K-12 teachers.
Morva McDonald, Ackerley Partnership Director and College of Ed faculty, further explains, "The Ackerley Partner schools collaborate with the University of Washingtonon preparing teachers and providing new teacher support and induction."
The first vintage of this wine, the 2007 Blackboard Syrah was fermented and then racked to barrel before blending in July 2008 and again in December 2008. They believe that this wine will offer you, "a powerful nose of black cherry, plums, baking spice and a hint of blueberry, a meaty Syrah with a very mild amount of pepper. This wine has focus on the palette, a nice thickness and a good amount of structure. This is the perfect wine for any casual occasion."
You can purchase the newly released 2007 Blackboard Syrah for $22 and Matthews Estate will donate 25 percent of the proceeds to the Ackerley Partnership.
Visit www.matthewsestate.com to enter your order and contribute to the College of Education.
Learn more about the Ackerley Partnership