Student Irene Sanchez Awarded MAP Scholarship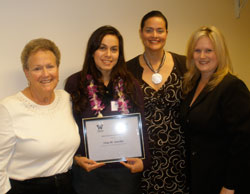 Irene Monica Sanchez, second from left, with members of the Ricardo Aquirre family.
Irene Monica Sanchez has been named a 2009 Multicultural Alumni Partnership (MAP) Scholar. (Learn more about Sanchez, the Ricardo Aguirre scholar, in this feature from her first year as a College of Education student in Educational Leadership and Policy Studies.)
The Ricardo Aguirre scholarship is named for a prominent figure in the Seattle Latino community. A UW alum, Agguire was dedicated to helping Latino students through mentorship and program support. He helped to found Seattle's El Centro de la Raza, where he and Sanchez first met. Though Aguirre passed away last year, he is survived by his family. (Pictured with Sanchez in photo.)
This is the first year that MAP has offered the Ricardo Aguirre scholarship. Sanchez, who works as a research assistant at El Centro de la Raza, is honored by the award.
"There is still a lot of work that needs to be done," says Sanchez. "So I'm glad to be here to carry on his legacy, of being a Chicana and being in graduate school, of putting in work to give back to my community. I think he really set that example for a lot of people and so I'm honored to receive an award in his name."
Learn more about Sanchez and the other MAP scholars.