Colloquium Presentations Score Big Points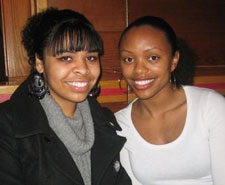 Natalie Hart, left, and mentor Danielle Wilson
The Education, Learning and Society Minor Colloquium is designed to create a supportive and engaging learning community for the students by connecting them with researchers, practitioners and each other via presentations, discussions, reading and various forms of media. Students are exposed to current pedagogical projects and theories in the realms of education, cognitive studies, and informal ways of learning, higher education and educational policy.
As part of the coursework, each student was responsible for a visual presentation about their academic aspirations, thoughts on field experience work, and an overview of how the course would be useful to them in the future. This was where the students really wowed.
"I was amazed at the varied background of the students and their deep motivation to work in the field of education," says instructor Gene Edgar.* "I was excited about this cohort of students moving through the University and into the world."
"This is my absolute favorite part of every quarter," agreed Jenee Meyers,* adviser for the ELS minor. "The students' stories are honest, inspiring, and meaningful to the students and their peers. I can gain a better understanding of what each student has struggled with as well as where each student is headed, which is one of the most rewarding parts of my work in advising them."
For example, Natalie N.K Hart, a fourth-year student at UW, who focused her presentation on bridging the achievement gap. Hart expressed an interest in increasing the number of minority and underrepresented students in higher education.
"I look up to Dr. Sheila Edwards Lange and hope to hold a position similar to hers one day. I would love to work in higher education and touch the lives of everyone I meet," Hart says.
It wasn't so long ago that Hart wanted to be a pediatric surgeon, a dream from the time she was eight years old. Hart forced herself into the med school track as an undergraduate. Thanks to a Zeta Phi Beta sorority mentor, Danielle Wilson '08, and some personal introspection, Hart entered into the education minor.
"I found the education minor and saw that the issues discussed were the issues I cared about," Hart explains. "I want to influence others and inspire them to go to college. I have a passion for working with others and helping others and you don't have to be a doctor, lawyer or engineer to do great things in life. I also showed how important it is to listen to others' advice and to take it to heart when you constantly hear how great you are at something. If you feel yourself pulling in another direction when you talk about one area of interest but your face lights up when you talk about another, then that is a definite sign you need to follow the path that makes you happy and lights that fire in your life."
When asked how the class helped her, Hart responds that she has learned about "different types of ways people are involved in education across the United States and has opened my eyes to the different types of opportunities out there. I was also able to network with other students who have similar interests to mine."
Another student, Gemmalyn Rabang, focused her presentation on her educational timeline from elementary school to higher education at UW. It was an in-depth look at her own journey and how the different elements of her education helped guide her to college. As she states, "Throughout the time line I talked mostly about how the educators that I have had in the past and the classes I have taken were influential to me in negative and positive ways. My early years in education helped shaped me into the student I am today with the rigorous curriculum from my private K-8 school. In high school I was guided into the honors and AP classes which helped me get into college. While in college I was going onto the nursing path but I am now on the education pathway."
Because of these influences, this path, Rabang plans to become a guidance counselor or a school psychologist. She wishes to help other students fulfill their potential by supporting them, just as she was supported.
Myers was floored by the presentations, stating, "During the presentations, I am reminded of how amazing the undergraduates at UW are, especially the ones who are striving to become teachers and educational leaders through our undergraduate programs… I'm so excited to be a part of helping them grow into the next generation of educators that are sure to transform education locally and globally."
How do these presentations make Edgar, a seasoned educator, feel?
"Awed," he says. "They made me want to work even harder at being a teacher."
*Edgar and Myers taught the course in 2009. The Winter 2010 colloqiums will be taught by Myers and Sharon Chang.