Faculty & Alum Receive Prestigious Awards Simultaneously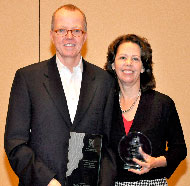 Walter Parker & Diana Hess
Faculty member Walter Parker and former College of Education doctoral student Diana Hess both recently received major research awards from the National Council for the Social Studies. Hess received the annual research award and Parker was honored with the career research award.
Hess, College of Education alum and now a professor in curriculum and instruction at the University of Wisconsin-Madison, received the annual research award for her book, Controversy in the Classroom: The Democratic Power of Discussion. The award recognizes exemplary research in social studies. As the committee's introduction stated: "Diana Hess's book, Controversy in the Classroom, represents the scholarship and practical application valued by the National Council for the Social Studies. Her work is relevant to pre-service professionals, current classroom practitioners and teacher educators. Therefore, the Exemplary Research Subcommittee enthusiastically endorses Diana Hess for the 2009 exemplary research award."
It's a lovely side note that much of Hess's work in Controversy in the Classroom goes back to her days as a doctoral student at UW. Back to the days when Parker was Hess's academic adviser. And she couldn't be more pleased.
"It was great to see Walter recognized," Hess says. "I was pleased he won—I was actually one of his nominators. And I was pleased to win my own award and to have my award partially based upon work that I did under his tutelage."
Hess acknowledges that, as with some strong adviser/advisee relationships, she and Parker have continued working together as she advances her own academic career. Parker is on the advisory board of Hess's study on controversial issues called Discussing Controversial Issues Study, and they co-teach a course each summer called Can we Talk? at the University of Washington.
Offered to area educators, Can We Talk? focuses on discussion-based pedagogy. As Parker explains, "We noticed that teachers who are very good at interactive discussion-based pedagogy are modest…the models we study are normally kvetching about how badly things went when we think it was fabulous. There is something about facilitating lively, productive classroom discussions that is interesting but really difficult. You have classroom management, curriculum issues…and more. We are interested in discussion-based pedagogy that provides ample time for thinking and talking. Similar to the slow food movement, this is the slow pedagogy movement. We want to slow it down so people can go into depth and grapple with the critical issues—whether in history, politics or great literature."
As for Parker, he received the weighty Jean Dresden Grambs Distinguished Career Research Award for his work as a social studies scholar and researcher. Since receiving his Ph.D. from the UW, Parker has extended his work into the realms of education and political science. He is a professor in curriculum and instruction at the College of Education and an adjunct professor in political science at UW.
As his nomination letter from Hess stated: "Professor Parker has served the field as a scholar whose work has dramatically improved our understanding of what is worth teaching, why and how that can be done in K-12 and university classes. He is a public intellectual who tirelessly advocates for social studies' teaching and learning…Professor Parker has garnered a well-deserved reputation as an exemplary leader in social studies education in the United States and many other nations."
In accepting the award in Atlanta, Parker told the audience that he would treat it as a "mid-career" award, noting that he had "current projects under way and others waiting in the wings."

At the moment, Parker is working with his colleagues, John Bransford and Susan Mosborg, on a George Lucas Foundation and a Gates Foundation grant, both looking at advanced studies in high school. The goal of the project? To incorporate project-based learning into the Advanced Placement (AP) curriculum so that students will pass the AP exam but also learn more deeply the course content. Initial results are very promising and they plan to scale up the project.
"We began with AP, the U.S. government and politics course, and we plan to continue looking at two things," Parker summarizes. "First, we are developing and testing a way to bring AP courses—widely considered the gold standard of the high school curriculum—in line with contemporary research on how people learn. We are now branching out into other subjects, such as AP environmental science. Second, we want to make AP courses more engaging for a wider array of students. Serious learning isn't to be confused with test-prep drudgery."
Parker is also focusing current and future research on the international education movement in public schools, specifically what it means to educate "global citizens." He sees this as a catch phrase or "rhetorical flourish. It rolls off the tongue easily, but it means sharply different things to different people."
"This movement in U.S. schools," Parker expands, "often takes the form of a school adding the word ''international'' to its name. I'm asking, what does that mean and how does the curriculum change? And what is this fascination with "global citizenship" among people who want the schools to make the nation more competitive? There is a contradiction here that I'm really curious about."
Parker's career research award is even more unusual since it likely marks the first university at which two social studies professors have received this award, both Walter Parker and James Banks. This distinction was first noted by Margaret S. Crocco, a social studies professor at Columbia University's Teacher's College.
Learn more about Parker's latest book, Social Studies Today: Research and Practice. It is a collection of articles that appeared in his column in the journal Social Education. Read the introductory chapter.