Meet Martinez Scholar Veronica T. Balansay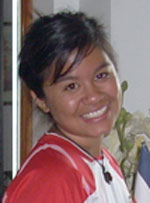 Veronica T. Balansay
Can you tell us about your previous educational experience and/or previous professional experience?
In the past, I have had extensive experience in the field of education through volunteering. Apart from tutoring math and reading at Bryant Elementary for the past four years, I have also been involved with Pipeline's Alternative Spring Break program and volunteered at Bridgeport Elementary for a week in 2008 teaching a course in expressing compassion through poetry for third and fifth graders. This past quarter, I studied abroad in Costa Rica and taught English to the young adults in the middle school for 10 weeks in the small town of Mastatal. Participating in these activities helped me to determine whether or not education is really something that I wanted to pursue in my life. Becoming a part of the lives of my students and helping them through the learning process is the most rewarding feeling I have experienced. The satisfaction that colors a student's face when he or she succeeds is one of the most gratifying and fulfilling feelings. I enjoy working with students very much and becoming a part of their lives in order to make a positive impact in their future.
Why did you choose the College of Education?
I chose the College of Education because it prepares me to become a better teacher and that is something that I always strive for. With the classes and different opportunities that the college offers, I know that I will be well prepared for whatever I decide to do in the future. The friendly faculty and staff that compose the College of Education really inspire and encourage me to be the best I can be and to really pursue my goals and dreams.
Why do you want to become a teacher?
I want to become a teacher because I want to encourage younger generations to achieve their goals and follow their dreams. I feel that as an underrepresented woman of color in the field of education, I can inspire younger generations by proving that diversity is important and that one should never be someone he or she is not. I want my students to grow up believing they can do anything they put their mind to, no matter how much money their parents make, where they come from, what they look like, etc. My hope is that students will see me, a woman of color, as an inspiration to be proud of who they are.
I have had so much motivation that has led me to this path from family and friends, courses and instructors, but my number one motivation comes from my students. After spending that week in Bridgeport and those ten weeks in Mastatal, I have realized just how much of a difference I can make in people's lives. When they thank me for teaching them all that I did, I thank them, too, because without them, I would not be where I am today.
What are you most excited to accomplish as a future teacher?
In my future teaching career, I am most excited to build relationships with my students that will last throughout their life. I hope to make a big impact on each of their lives and serve as a good role model that they can look up to and respect. I am most looking forward to all of the lives I hope to touch and change, I want to teach them to realize their potential and encourage them in every way that I possibly can.