Meet Martinez Scholar Nuvia Chavez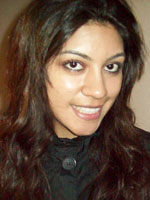 Nuvia Chavez

Can you tell us about your previous educational experience and/or previous professional experience?

My previous educational experience encompasses diverse volunteer opportunities. I love these opportunities because they keep me open-minded and allow me to experience and learn about the life of others. What I enjoy most about volunteering is being able to somehow impact others. The following experiences have given me a chance to work with children in schools and have also contributed to my passion of being an educator.

Fall 2007: Secondary Bilingual Orientation Center
This Seattle school consists of kids and young adults from all over the world. In the classroom I assisted the teacher by translating to students, tutoring in English and helping with writing assignments. I learned about the economic barriers and family hardships of others.

May 2007: Union Gospel Mission
Through a school organization, Unidas Seremos, the girls and I learned about homeless people living in Seattle as we assembled in a line and distributed food portions. The experience was an eye opener in becoming aware of neighbors in our community.

Spring 2008 & 2009: Pipeline Project's Alternative Spring Break Program
The Pipeline Project, a program at the University of Washington, sends about 50 undergraduates to volunteer in literacy, arts or environmental education projects in rural and tribal communities throughout Washington during their spring break. The group that I was part of was sent to Toppenish, Wash. As a member of the team, I spent a week living in the community and working with Valley View Elementary students. We helped a group of kids write and create their own book. In 2009 we went to Harrah, Wash.

April 2008 & 2009: The American Cancer Society Relay for Life
Participated with Unidas Seremos in fighting cancer. The event took place at the University's Husky Stadium. As a volunteer of our team, I helped raise money and took part in walking and running laps around the track.

Why did you choose the College of Education?

What I like about my current academic work is hearing about the perspectives of others and learning within the education system. I think that inspiration is endless when one is living; how my parents make a living inspires me. High school students that want to drop out inspire me to do something about it.

Why do you want to become a teacher?

When I volunteer in the rural communities, I feel a strong ambition to connect with those students because I can relate to them. This connection is my motivation to pursue a teaching career because I have walked similar paths. I want to intervene in a positive way; be that counselor that advises because some kids do not have that type of intervention in their lives. That is why I hope to become a teacher.

What are you most excited to accomplish as a future teacher?

As a future teacher I am most excited to accomplish a positive intervention and impact in students.