Current Student Spotlight: Meet Aaron Modica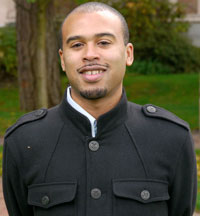 Aaron Modica
What program are you in at the UW College of Education?
Educational Leadership and Policy Studies: Social and Cultural Foundations of Education
Where are you from? What were you doing before you enrolled in the UW College of Education?
I am from Oakland, Calif. Prior to attending the University of Washington, I worked in the Center for Student Cultural Diversity at the University of Nevada, Reno. I hold bachelor of art degrees in sociology and psychology and a master of arts in sociology from the University of Nevada, Reno.
Where were you prior to attending the College? What were your interests there? What kind of work were you doing?
As a student of sociology with a thirst for history, my interests pertained to urban communities, African-American history and social movements. For example, as a student at UNR I guest-lectured on a term paper I wrote, Women and Revolution: The Social Construction of Gender in the Black Panther Party, where I discussed the struggle against patriarchy, economic exploitation and racism.
As the support specialist for the Black Cultural Cooperative, my primary mission at UNR was to nurture and strengthen the intellectual, professional and cultural growth of African-American undergraduate students, and students from all walks of life. For example, I designed and facilitated dialogue sessions to help students build confidence in articulating ideas about culture and equality, and to see the personal benefits of opportunities like studying abroad. My specific interest in creating this type of learning community, where ideas were valued and rewarded, showed me that teaching can empower individuals as well as communities.
In addition to retention-based programming, I worked to recruit students of color and from low-income families to the university. Through a combination of school visits and college/high school shadowing programs, I was able to utilize skills that I previously learned as an Upward Bound mentor and McNair Scholar to be part of the pipeline that gave underrepresented students access to higher education.
Why did you choose the UW College of Education?
Because of my work history in education and academic background, I was immediately drawn to the Social and Cultural Foundations specialization in the EDLPS program and its emphasis on the history and philosophy of education. In particular, I connected with the work of Dr. Joy Williamson-Lott. I felt that she would be supportive in my exploration of the educational experiences of African Americans in the Northwest, and that I would also learn more about the concept of "education for liberation."
In addition to my program, the staff and students from the Graduate Opportunities and Minorities Achievement program and the Office of Minority Recruitment and Retention were extremely helpful with my transition to the UW and with answering many of my questions about campus resources and professional opportunities. Knowing that such a supportive campus community exists played an important role in my decision to attend the UW.
Furthermore, Seattle offers a rich diversity of community cultures that is unique in many respects. Seattle allows for one to truly look at education through multiple lenses. As a teaching assistant in the American Ethnic Studies department, I have had the pleasure to meet and talk with students from various cultural backgrounds.
What kind of work do you hope to do here?
By learning and researching more about the educational experience of African Americans in the Northwest, I hope to contribute to our understanding of the historical relationship between education and liberation.
What are your personal interests?
I am an avid snowboarder and can't wait to explore the mountains of the Northwest. I have also begun working with a community based nonprofit that assists young adults with finding housing, accessing education and employment.