Meet Martinez Scholar Arthur Sepulveda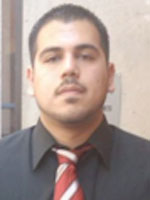 Arthur Sepulveda
Can you tell us about your previous educational experience and/or previous professional experience?
This past year I have been doing research called Proyecto Accesso: Opportunities to Learn in the state of Washington with Professor Francis Contreras. This research gave me a better understanding of the issues that Latino students, parents, teachers are dealing with in regards to Latino education. I have also been a tutor and have gained classroom experience in the Seattle school district at Ingraham and Ballard high schools. This gave me a chance to shadow teachers as well as teach a class for a day and this got me more interested in teaching and/or becoming an administrator.
Why did you choose the College of Education?
I chose the College of Education because of the programs; this includes the Master's in Teaching program or the Educational Leadership and Policy Studies program. The work that Professor Contreras does is inspirational. My own education experiences, and wanting to better the education system, have also led me to the College of Education, so Latinos can have equal opportunities to succeed and gain higher education, is what has driven me to become a teacher or an administrator.
Why do you want to become a teacher?
I want to become a teacher because I want to be an inspiration to the Latino youth like some teachers have inspired me. I also want to mentor and inspire youth to pursue higher education and be an example for them, that they, too, can make it.
What are you most excited to accomplish as a future teacher?
Getting kids excited about history, as well as trying to mentor and push underrepresented students into higher education. Also I want to make in impact on how we educate our Latino youth, whether it's in policy or directly in schools.