Student Profile: Meet Cristina Gaeta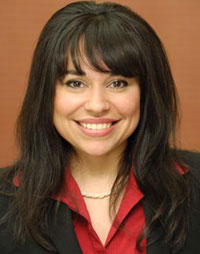 Cristina Gaeta
Cristina Gaeta is a new graduate staff assistant in the Office of Multicultural Recruitment and Retention and a new student in the Educational Leadership and Policy Studies area.
Gaeta joins us fresh off a three-year stint as the Director of the College Assistance Migrant Program (CAMP) at Washington State University, a federally funded program aimed at bridging college access to the migrant farmworker student population.
Having come from a migrant farmworker background in eastern Washington, Gaeta identifies with the socioeconomic challenges that prevent migrant students from succeeding in higher education. As she states, "This isn't a population that is normally seen in higher education, so it takes a lot of nontraditional methods to create a successful retention program that is inclusive of social behaviors, cultural factors, values, customs and communication styles to help underrepresented students feel self-assured and empowered in college."
Gaeta's personal and work experience is what sparked her interest in educational policy. As a College of Education student, Gaeta's Ph.D. work will focus on social inequities for underprivileged students. She plans to work with Meredith Honig on policy implementation and Frances Contreras on Latina/o issues. In fact, Gaeta says that she chose the University of Washington because of the eminent faculty.
"I was interested in the faculty," she says. "Meredith's research on policy implementation appealed to me since I currently run a federal program and have direct experience working with policy implementation. And Frances' research in Latina/o issues hit home on many of my personal struggles. So, I'm really coming because of faculty research and the community work they involve themselves with. I truly believe academic scholars need to be visible and play an influential role within the conversations of our diverse communities."
Gaeta got her start in higher education with a B.A. in Economics and Finance at Eastern Washington University, which led to a master's in public administration.
"Because I m a practitioner in education," Gaeta states, "I wanted to bridge my passion in policy and public administration. I was working with Dr. Grant Forsyth in the Economics Department as an undergrad and for my master's I was working with Dr. Terry Novak. Just like any academic person, they enhanced my interest in these areas. Someday I'd like to mentor another ambitious mind as they did for me."
When asked about her future role as an Office of Multicultural Recruitment and Retention (OMRR) graduate student assistant, Gaeta is eager to make a difference.
"I'm excited to work with the OMRR," she effuses, "the staff are great, the program sells itself and it's exciting to promote such a wonderful graduate level opportunity to those who are ready to take that next step in their academic careers."