Riding the CREST

CREST, otherwise known as the Collaborative Researchers for Education Sciences Training program at the University of Washington, will welcome the inaugural cohort of fellows next year. The U.S. Department of Education Institute of Education Sciences (IES) awarded the University of Washington 4.5 million to implement a new pre-doctoral research training program for students to investigate critical issues in K-20 education policy and practice.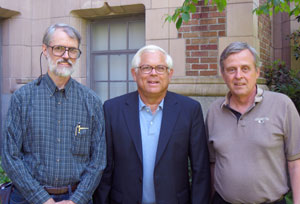 Michael Knapp, left, Robert Abbott and William Zumeta
CREST co-directors include Dr. Robert Abbott, Dr. Michael Knapp, and Dr. William Zumeta. This interdisciplinary graduate program will include faculty from numerous departments, including education, public affairs, sociology and social work.
The first 10 CREST fellows, all pre-doctoral students, will ride the first wave into this interdisciplinary graduate program, a joint collaboration between the UW College of Education and the Daniel J. Evans School of Public Affairs. Another seven will be admitted in the next application cycle. CREST will admit another seven students for academic start in fall 2010. Ultimately, over the next five years, CREST will train 25 doctoral students, all supported through this unique research apprenticeship opportunity.
CREST's mission: "To prepare scholars who are fully equipped for interdisciplinary research and evaluation of K-20 policy interventions and associated programs, using sophisticated mixed-methods designs built upon cutting edge quantitative and qualitative methodology."
More information will be forthcoming. If you have questions about CREST, please contact program administrative staff Angie Windus at 206-221-4114 or awindus@uw.edu.