Gary Cohn, '99, Is Everett's New Superintendent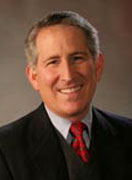 Gary Cohn
Gary Cohn, '99, is the new superintendent of the Everett (Wash.) School District. (Cohn's wife, Sue Cohn, is also a College of Education graduate.)
During his time at the College of Education, Cohn was advised by Joe Stowitschek. His supervisory committee included Marge Plecki, Fran Hunkins, Jerry Bamburg and Pamela Posey.
Plecki, an associate professor in the area of educational leadership and policy studies, remembers Cohn. Of her former student she writes: "Gary has many talents, one of which is his ability to think strategically and act collaboratively. He listens carefully and is able to take multiple viewpoints into consideration before deciding on a course of action."
Learn more about Gary Cohn's education, experience and future as Everett's superintendent.