Hitting the High Notes
A gaggle of teenage girls shuffles into the auditorium, eyes wide open and mouths gaping. In mere hours, these young ladies will be swaying and singing, garbed in jewel-toned evening gowns and elbow-length white gloves. They are students in The Music Project Foundation, a program that melds the study of music with an outcomes-based performance, aimed to empower students.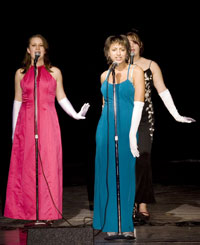 Teens stage a professional performance, changing their lives in the process.
"It is absolutely amazing what happens when students start building confidence," says UW College of Education alum James Geiszler, executive director of The Music Project. "Thousands of dollars are invested in sports like football and very little through music, which can really help youth. This is a chance to help kids through music."
The first group of teens numbered at 26. When told they would be learning to play and sign the blues, one student asked, "What are the blues?" Geiszler replied, "You'll know it when you hear it."
The project's inception came about in 2006, founded by Bernadette Bascom, the creative director of the Music Project Foundation. Bascom is an acclaimed R&B singer with over 35 years of experience entertaining and performing with artists such as Stevie Wonder, Elton John, The Four Tops and as a solo performer.
"I had a voice student who went to the Secondary Academy for Success, which is the last step for at-risk kids before they get out of the system," says Bascom, "and he told me that I should come teach some of his friends. Jim, who was doing music at Secondary Academy, and I began working on this in 2006. I had just come from Las Vegas after 15 years as a headliner on the strip. So I started grooming them to do bigger shows, like benefits.
Geiszler, who taught at the Secondary Academy for Success after receiving his degree from the UW College of Education, knew that the youth were grappling with tough issues and that, above all, they needed support and confidence. He had brought music into the school and had seen results. When Bascom stepped in, the program came together: four weeks of professional training followed by a professional concert.
In 2008, Bascom and Geiszler created the Music Project Foundation, building upon their previous work. Their aim? To create a program of music education for underserved youth, a program that trained the students and allowed them an opportunity to perform at a high level.
For roughly $8,000, five professional musicians train the students to play blues and perform a concert. In three weeks, students learn 13 classical blues songs. One cohort even worked out their own original composition of a Langston Hughes poem. At the end of the four weeks, they perform, leaving their audiences yelling for encores.
It isn't solely about the music. Some kids learn how to do lighting, sound or recording, all taught by professionals in those fields. A quality performance takes a whole team.
"Basically, they learn confidence," Bascom asserts. "They learn to work hard for a sustained period of time. They learn to present themselves well in front of others. I teach them how to enunciate, how to interpret a song, how to tell the story, how to touch people.
While the process of training builds confidence, it is one thing to learn how to make music, quite another to make music in front of a live audience. The key, Bascom and Geiszler assert, is getting the youth onstage.
"At first the kids are nervous before the performance," states Geiszler. "but their breathtaking concert performances are unlike any normal school concert. It's unbelievable and these kids, kids who four weeks before weren't sure they wanted to touch a light, much less sing, didn't want to get off the stage. They were different—attendance got better, behavior got better, there was joy in the classroom. It was the first time, perhaps in their lives, that they were acknowledged for doing something well, that they got respect from their peers."
Twelve concerts in, Geiszler and Bascom have taken over 130 kids onstage to perform blues, rhythm and blues, rock and roll, sou, and more.
"We've had kids with social anxiety disorder, Tourette Syndrome and other challenges. These kids relished the attention and really shone onstage," summarizes Geiszler. "We never put any youth in a situation where they will feel like a failure. The point of this is success."
The Foundation has set a fund-raising goal of $100,000, money that will go directly to bringing professional sound, video, recording, photography, lighting and music professionals to underserved youth. (A video and sound recording are left with the school.) In addition to hiring professionals, the funds cover the cost for equipment, transportation and costumes.
On Nov. 27, 2008, the students will perform at the Festival of Trees, a Children's Hospital Benefit. Soon after, they will be performing at the Triple Door, with some heavy-hitters in the musical world.
"We are going to perform with Mary Wilson, an original member of The Supremes, and Sonny Turner, lead singer of The Platters," Bascom beams. "The Triple Door will host us for a night of Supremes and Platters music."
"Once more people see the results, this project is going to go boom," says Geiszler.
For more information, contact UW College of Education alum James Geiszler.
Watch a short documentary video of a benefit performance at the Northshore Performing Arts Center in April 2008. It features Music Project Creative Director Bernadette Bascom, American idol contestant Sanjaya Malakar and the students from the Secondary Academy for Success.
Watch a Supremes medley performance at the Motown Evening. Or visit Bernadett Bascom's Web site.
Learn more more about the Music Project.