Multicultural Alumni Partnership: Aiming High Through Student Recognition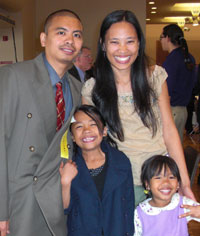 Eligio Martinez Jr., left, and Third Andresen at the MAP breakfast.
College of Education students Third Andresen and Eligio Martinez Jr. are the prestigious recipients of Multicultural Alumni Partnership (MAP) scholarships. Third Andresen has been awarded a Multicultural Alumni Partnership Award and Eligio Martinez Jr. is the receipient of an Owen G. Lee Scholarship.
As Dean Pat Wasley stated, "I was lucky enough to join a group of educators—university and K-12 folks—on a trip to China this past spring. The experience strengthened my belief that education is essential to bridging the cultural gaps that too often separate us. The Multicultural Alumni Partnership provides such critical support to students who for a number of reasons might not have the opportunity to pursue secondary education or advanced degrees. I truly believe in, and have committed the efforts of the College of Education to, the mission of improving access to the best possible education available—whether for beginning teachers, or experienced principals, superintendents, or college professors and researchers."
"We undeniably live in a very diverse region and our diversity provides us with a depth and breadth of possibilities that will ultimately serve all of us," Wasley continued. "This year the College of Education has two outstanding students who have been honored with support from MAP scholarships—Third Andresen and Eligio Martinez. I congratulate them wholeheartedly for the hard work and dedication that has gotten them to this point. I thank MAP for its mission and vision to support scholars across the disciplines—for their investment in the leaders of tomorrow in our schools, our community, our state and our world."
"We are so proud to have two of our students, Eligio Martinez Jr. and Third Andresen, honored and recognized both as scholars and as community leaders. Last year, another one of our students, Julie Kang, was honored. The number of our students honored by the MAP scholarship over the years speaks to the high caliber of students in the College of Education—their scholarly achievements, as well as their commitment to community and equity and excellence in education." stated Cynthia del Rosario, director of Minority Recruitment and Retention at the UW College of Education.
Eligio Martinez Jr., a masters of Education student in the Educational Leadership and Policy Studies department, is currently researching militarization of youth of color. He is specifically examining the impact of this on higher education with his adviser, Frances Contreras.
As Martinez declared, "I'm humbled and honored to be selected as a recipient of the Multicultural Alumni Partnership scholarship, I believe that students are what make institutions prestigious and I'm glad that the University of Washington and the Multicultural Alumni Partnership continue to support students that will impact and change the face of the University."
Third H. Andresen, a full-time Ph.D. student in the area of Curriculum and Instruction, has a stated research focus on multicultural education. Andresen, whose mentor is College of Education faculty member, Geneva Gay, is interested in transformative/multicultural curriculum development and implementation.
"This scholarship award will help alleviate our financial strain in order for me to focus more on completing my academic program and serving my community," Andresen stated. "My research interest has always been connected with my disenchantment towards school. It was not until college that I learned about Filipino American contributions in our nation. From this experience I became involved in deconstructing stereotypes and psychological cultural captivity in my community utilizing education. As I reflect on these experiences, I am particularly interested in the findings of multicultural curriculum would have on students' abilities to become reflective citizens in our pluralistic nation and answers to the question: how would integrating contributions through transformative approaches of marginalized groups in current curriculum influence student's attitudes and performance in schools?"
Andresen and Martinez were honored at the 14th annual Bridging the Gap breakfast. Presented by Safeco Insurance Foundation and the Multicultural Alumni Partnership (MAP), the annual breakfast is also co-sponsored by the UW Office of Minority Affairs and the Office of Advancement.
In addition to student awards, distinguished alumni awards were presented to the Hon. Ricardo Martinez, '75, '80; Sonny Sixkiller, '74; Dr. Carver Gayton, '60, '72, '76; and the Hon. Dolores Sibonga, '52, '73.