Did You Know?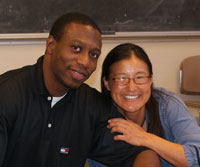 What is the most popular name of this year's class? Where are incoming students from?
Fun facts on the incoming crop of new College of Education students.
Enrollment: The College of Education matriculated 165 new students this fall.
Degree: Of these students, 123 are pursuing a masters degree and 43 are working for a Ph.D.
Area: The largest area represented is Educational Leadership and Policy Studies, with 60 new students.
Citizenship: The incoming students represent 10 countries and 17 states.
Prior Institution: 76 institutions are represented.
Month of birth: October is the most common birth month.
Date of birth: The incoming students' age range spans 32 years.
Most common name: Jennifer is the most common name among our incoming students.
Perfect GRE scores: Four students scored a perfect 800 on the quantitative section, five scored a perfect six on the writing section.