Creating Futures: Campaign UW
As part of a University-wide effort, Campaign UW: Creating Futures, the College of Education set a goal to raise $23 million. Through the generosity of College of Education alumni, friends, faculty, and staff, we exceeded that goal by 50 percent.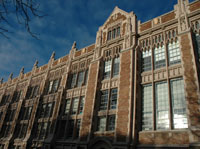 The College of Education exceeded its $23 million campaign goal by 50 percent.
Watch a short video to learn about Creating Futures at the College of Education.
From supporting the college's research programs to redesigning our teacher preparation program, from building partnerships to funding special education initiatives, donor gifts made excellent education a daily reality for students in classrooms in this state and across the nation.
As a result of generous gifts, the College of Education strengthened our partnerships by developing strong relationships with Seattle Central Community College, high-need P-12 schools, and countless others. Endowed chair positions were established, positions that influence the way we approach education on a local and global level.
During the campaign, $6,652,021 (plus over 4 million in additional testamentary support) was raised for student scholarships and fellowships. Donors created 34 new scholarships and an additional 40 full-tuition scholarships that will be realized through testamentary gifts in future years.
And we are especially proud that 72 percent of our faculty participated in the Campaign and six endowed fellowships were created by faculty and staff.
Building upon that, private foundations, organizations, alumni, and friends contributed $4,233,005 in faculty support. Innovative and effective early learning practices were strengthened within integrated classrooms and we expanded our research to capture thriving practices that will continue to shape the way in which our students learn and grow.
We are proud of this progress, yet we are looking to the future for there are many more needs to fill in the area of education. Learn more about giving opportunities.