Connecting to the Environment:
The Joys of an Early Childhood Outdoor Classroom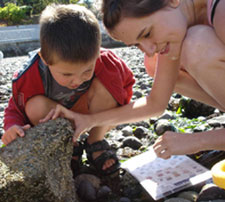 The ECO Classroom takes advantage of nature's endless learning opportunities.
"Research shows that connecting with nature leads to better health, concentration, and creative play; and developing a bond with the natural world can help form a foundation for environmental stewardship."
—Louise Chawla, Growing Up in an Urbanising World, London: UNESCO, 2002
She is the most popular kid at Denise Louie Education Center, a school nestled into Seattle's Beacon Hil neighborhoodl. At three feet tall with long, black pigtails and shiny eyes, she has an innate sense of wonder and an incredible flexibility. Yet unlike normal girls, Molly is made from yarn and cloth.
Molly the puppet has transfixed head teacher Darren Chamberlain's class of 20 three- to five- year-olds. Every morning, when she comes out of her cardboard "clubhouse" dressed for adventure, Molly is greeted with shouts of enthusiasm and energetic retellings of the kids' discoveries.
"We saw a ladybug yesterday!" says one child.
"I found a fish at the dock!" shouts another.
Molly is part of the Early Childhood Outdoor Classroom, or ECO classroom, project, the brainchild of Dean Pat Wasley at the University of Washington College of Education. This summer, the 20 students represent four primary languages—Chinese, Vietnamese, Spanish and English.
The ECO classroom is a scalable project, designed for culturally and economically diverse pre-school children. The curriculum introduces and connects students and their families to nature, the environment and arts, fosters a sense of wonder and instills compassion for the environment.
The project has a few broad overarching goals for the students, including: building new vocabularies of terms related to science, nature and art; fostering and stewarding strong imaginations fueled by curiosity about the natural world; and increasing comfort and compassion for "wild spaces."
On their diverse field trips to environmental locations in the Seattle area, the kids spend most of the day exploring the outdoors and engaging in typical indoor activities in the open air. Whether they read in an outdoor library, set up at the base of a tree, or break out the art supplies in an open meadow, they are learning and creating in diverse outdoor environements. And Molly takes them there.
"Molly has achieved rock-star status," says Gail Joseph, faculty member at the UW College of Education. "The first thing the students ask in the mornings is, "Where is Molly? Is she out exploring?" When we started, they listened to her pretty quietly. Now, when she comes out of her playhouse, they erupt into questions and recollections of their own adventures and back yard discoveries."
One day Molly may wear a swimsuit for the beach, the next day blue jeans for a walk in the forest. Molly has a magic magnifying glass that has a different picture every morning, a picture of where the class will be going that day. The magnifying glass serves as a "provocation" for discussion about the children's prior experience with a particular critter or habitat. Moreover, it serves to foreshadow the day's adventure.
As they learn about where they are going, students ask Molly questions about their destination and Molly teaches them about that environment. Most days, Molly has a puppet friend, like an owl for the forest, and she models how to relate to the wildlife in that specific habitat," Joseph states. "We intentionally used a girl puppet to model sciencing. She also models a sense of wonder, of curiosity."
During the first phase of the project, children go to a new environment each day. During the second phase, they return to the same environments with new provocations and questions. During each field trip, children explore the outdoors, complete with science kits (e.g., magnifying glasses, photo paper, note books to record observations, tweezers, nets, etc). Children are also provided with materials and guidance to creatively express what they learn and experience outdoors.
Research shows that today's children spend most of their time indoors, and not just children in the city. While children used to enjoy playtime outdoors during school at recess and have environmental education and art classes as part of standard curriculum, this has disappeared in many school districts as the focus of learning is on high-stakes test performance. And, when they are not in school, children are mostly indoors. A Center for Disease Control (CDC) study found that children ages 6 to 11 spend, on average, 30 hours a week watching television or a computer screen. And even when they are outdoors, as author Richard Louv discovered in researching his book, Last Child in the Woods, children are no longer fully engaged with nature. For example, he notes that it is common to see children wearing headphones as they ski down a mountain.
The ECO classroom project manages to get students outside, interacting with nature's bounty.
"We've been out most days, at first exploring things in their own environment like Jefferson Park and then branching out to the wetlands or the Olympic Sculpture Garden, " Joseph describes. " We've walked and we've boated everywhere, from Seward Park to the tide pools. Whatever the situation, we always allow children to be actively involved in exploring phenomena that interest them. We also create a lot of unstructured outdoor time for the kids to play, cooperate and explore."
One of the most significant concepts is the idea of "science eyes," ""science ears," and "science nose."
When asked to describe what his "science eyes" saw at the wetlands, Martin, a precocious five-year-old, enthusiastically reports, "I see rocks and the seashells and the fish and the crab. The crabs were baby. We found little crabs. I'm going on the boat at wetlands with lilypads and fish at the dock. At first I felt kinda scared but I calmed down and I'm not scared."
Sarah, a wide-eyed four-year-old, summarizes that she saw, "a boat and a big dock. I see a goldfish and then I see the water and the ducks."
Benjamin, also four years old, adds, "Seeing a boat and I had a jacket and I fall down and I go on a boat and my mom helped."
Children today are suffering from what Louv calls "nature-deficit disorder" as a result of spending so little time outdoors. Louv links this lack of time in nature to some of the most disturbing childhood trends, such as the rise in obesity, attention disorders and depression.
According to the CDC, the U.S. population of overweight children increased by almost 36% from 1989 to 1999. Two out of 10 children in America are clinically obese—four times as many as in 1960. A 2003 survey published in the journal Psychiatric Service found that children who were prescribed antidepressants had almost doubled in the past five years, with the number of prescriptions written for pre-school children showing a 66% increase.
In addition to connecting the class with the outdoors environment, the ECO Classroom project provides children with lessons that foster inquiry—encouraging them to think creatively and strengthen their base for continued learning.
On the last day of the project, Seattle Art Museum staffers joined the groups for an art module, in which the kids did fish prints. Rebecca Aubin, museum educator, and Janet Fagan-Smith, led an activty in which the kids painted fish replicas and created colorful t-shirts embossed with SAM for the Seattle Art Museum.
As Aubin said, "We did fish prints with the kids as a follow-up to their Olympic Sculpture Park Experience,"
"Yeah," chimes in Fagan-Smith, "this is sort of a special deal."
"We bring art to life," asserts Aubin.
Art and education merge quite frequently in the ECO Classroom curriculum. Photos from the previous day's adventures are selected by the kids for wall hangings every morning, accompanied by the children's annotated reflections about the experience. And the ECO partners all emphasize the creative impulse in their educational sessions.
A collaboration of the UW College of Education, Seattle Art Museum, Evergreen School, Woodland Park Zoo, Pacific Science Center and IslandWood, the ECO Classroom brings together many partners, who are working on a collaborative partnership model and program curricula, delivery, and impact. Their ultimate goal is to create a program that can be replicated in other communities across the state and perhaps, the nation. It has been a reciprocal exchange of learning for the teachers.
Darren Chamberlain, the project's head teacher, works with representatives from the partners to create this unique experience for his children.Chamberlain, who has taught at Denise Louie for 10 years, says, "We like to be out in the world…and one of the really fun, exciting parts is to have this other group of teachers to co-create, talk shop, and share the wonder."
"I love this age group," Chamberlain continues. "Its the cooler version of us before wonder and awe got domesticated away. They've been great teachers for me. They force me to look at things anew."