School News
Search Begins for Permanent SFR Director
The UW College of the Environment has begun a national search for the position of professor and director of the School of Forest Resources. SFR seeks a creative, innovative leader in environmental, forest and conservation sciences who will enhance and further the school's reputation and position as an international leader in learning, discovery and engagement. SFR faculty serving on the committee include Josh Lawler, Sarah Reichard, Clare Ryan and Steve West; alumnus Court Stanley, '83, is also a member. Visit the SFR website for a list of the full committee and other information about the search.
Faculty News
Professor Clare Ryan was reappointed adjunct professor in the Evans School of Public Affairs for the 2010-11 academic year; she also has an adjunct appointment in the School of Marine and Environmental Affairs. Reappointments to the UW graduate faculty for a term of five years include Sally Brown, Charles Halpern and affiliate Ken Raedeke. SFR recently welcomed new Affiliate Professors James Flewelling and Mack Hogans, and Affiliate Associate Professor Robert Deal.
Flewelling, an independent consultant on research involving digital imagery and LiDAR will be working with the Precision Forestry Cooperative. Hogans, '76, recently retired as a senior vice president for Weyerhaeuser Co.; he has been instrumental in developing and facilitating SFR's Distinguished Alumni Seminar Series. Robert Deal, '87, is a research silviculturalist and science team leader for the USDA Forest Service's Pacific NW Research Station in Portland, Ore. He is on the executive board of the Precision Forestry Cooperative, and collaborates on SFR silviculture and ecosystem services research.
SFR also welcomed Visiting Professor Thomas Hansen from Montana State University, where he is a professor, NEON Initiative director and research scientist at the Big Sky Institute. He will be working on a book, Ecosystem Energy as a Framework for Conservation: Tailoring management to local landscapes.
SFR's Graduate Program Gets High Marks from National Research Council
SFR's graduate program was among 15 UW graduate programs at major universities across the country that were highly rated by their peers in an assessment by the National Research Council. The Council evaluated 5,000 doctoral programs from 212 universities nationwide and released the results on Sept. 28, 2010. SFR's graduate program was rated among the top three forest science graduate programs in the country.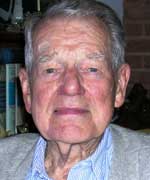 Morten J. Lauridsen Jr.
New Student Support Endowments Established
The estate of Morten J. Lauridsen, Jr., '39, has donated $597,000
to establish the Morten J. Lauridsen, Jr. Endowed Scholarship Fund in the School of Forest Resources. The endowment will provide scholarship support to undergraduate and graduate students pursuing forest resource science studies with emphasis on principles of sustained yield forest management. Lauridsen ("Mort" to his many UW friends) remained close to his alma mater over the course of his lifetime and his generous charitable bequest capped a lifetime of giving spanning more than half a century. The scholarship joins another endowment established in 2008, the Morten J. Lauridsen, Jr. Endowed Fund, a discretionary fund to address the "most pressing" SFR needs, as a legacy of his generous and comprehensive support for his alma mater.
The Josef Kolar Endowed Fund for Graduate Student Support, established in memory of former SFR student Josef Kolar, '04, will benefit graduate students engaged in research for the Center for International Trade in Forest Products or enrolled in SFR's Peace Corps Masters International Program.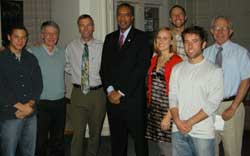 From left: Brian Bragg; Frank Greulich; Ivan Eastin; Peace Corps Director Aaron Williams; Cynthia Harbison; Eric Peterson; Johnny Bruce; and Tom Hinckley, SFR director.
Peace Corps Director Visits
During a UW visit by Peace Corps Director Aaron Williams, SFR hosted an afternoon gathering at Anderson Hall on Nov. 19, 2010, for Williams and faculty, staff and students who have been Peace Corps volunteers. The UW currently has more alumni (101) serving in the Peace Corps than any other university. SFR has been offering the Peace Corps Masters International (PCMI) program in international forestry since 2005, under the direction of Professor Ivan Eastin, and has recently expanded the program to include a new option in natural resource management. This option gives students an opportunity to study in any of SFR's graduate research interest groups. SFR students have gone overseas to assignments in Cameroon, Ethiopia, Senegal, Tanzania and Paraguay. You can follow one of these students, Jake Grossman, as he blogs from Paraguay, where he
works as an agroforestry extension volunteer in the state of Caazapá.

New Books by SFR Faculty, Staff & Students
Sustainability Unpacked: Food, Energy and Water for Resilient Environments and Societies, co-authored by SFR faculty Kristiina Vogt and Dan Vogt, SFR graduate student Asep Suntana, and SFR affiliate faculty Toral Patel-Weynand, along with other co-authors, was published in October 2010 by Earthscan Publishers. The book discusses the interlinking and complex elements of sustainability and how they influence and are influenced by our society when it comes to making decisions about resource use.
Affiliate faculty Don McKenzkie, '94, '98, is co-editor of the recently published The Landscape Ecology of Fire (part of Springer-Verlag's Ecological Studies Series). SFR faculty, staff and alumni contributors to the book include Ze'ev Gedalof, '02; Jessica Halofsky; Morris Johnson '01, 08; Maureen Kennedy, Jeremy Littell, '06, and Professor Dave Peterson. The book is dedicated to the memory of alumna Lara-Karena Kellog, '07.
Professor Sarah Reichard's new book, The Conscientious Gardener: Cultivating
a Garden Ethic, published by the University of California Press in January 2011, explores the many benefits of sustainable gardening and gives practical advice on topics such as pest control, water conservation, living with native animals, mulching and invasive species.
Also, see the "Recent Discoveries" feature in this newsletter for news about Professor John Marzluff's just published Dog Days, Raven Nights, co-authored with Colleen Marzluff and chronicling the Marzluffs' three-year endeavor to research a mysterious and often misunderstood bird, as they assembled a gigantic aviary, climbed sentry trees, built bird blinds in the forest, captured and sustained 300 ravens as study subjects and endured harsh Maine winters in pursuit of their goal.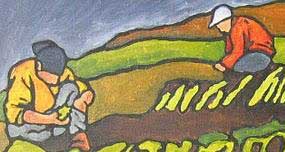 UW Conference Addresses Need for Sustainable Food Systems
"Cultivating Community Food Security: Recent Research in Urban/Rural Food Systems," a conference at the UW Botanic Gardens Center for Urban Horticulture on Dec. 4-5, 2010, was designed to increase collaboration among community leaders and residents to create a more sustainable regional food system in terms of production, land use and equitable access to food. Co-hosted by UW Botanic Gardens and Washington State University Extension, and sponsored by the King Conservation District, the conference brought together a diverse audience of over 150 attendees, including urban gardeners, agriculture organizations and legislators. Speakers presented emerging research on topics ranging from urban soils, food markets, urban/rural economic interdependence and public health, and work groups convened to develop post-conference initiatives.