Letter from FRAA President Ara Erickson
Welcome to spring from the Forest Resources Alumni Board! The Indian plum is leafing out, the cherry blossoms are beginning to share their beauty and the field season is starting in full force for many students, staff, faculty and alumni in our various research projects, jobs and hobbies.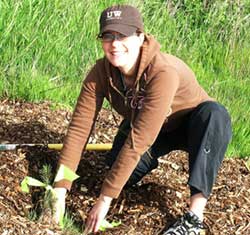 Ara Erickson plants trees for the SFR Alumni Day of Service at the Union Bay Natural Area.
After a successful fall awards event, our group was inspired by the turnout from all of the generations in the SFR alumni community. For those of you who were able to attend, we hope you enjoyed the evening as much as we did. We look forward to seeing many of you, as well as a few new faces, at some key SFR events this year.
The Forest Resources Alumni Board is taking some time to develop an action plan for the next two years. We are working on how we can best provide a way for alumni to engage with, support and provide input to SFR. Our goals include: improving educational opportunities for students and alumni in order to ensure a competitive advantage for them in the career market; ensuring that graduates are employable in their chosen resources field; maintaining SFR as a world class institution dedicated to education, research and outreach on forest-related issues; supporting the positive culture and reputation of SFR; helping foster a sense of healing for disconnected or discontented alumni; providing an avenue for alumni to reengage and reconnect with SFR and encouraging philanthropy to SFR and the UW.
We are focusing on adding new members to the board and are well on our way with a new trustee to represent the '90s. We are thrilled that Matt Hinck, a graduate from the Paper Science and Engineering (now Bioresource Science and Engineering) program, is joining our ranks! We look forward to this opportunity to connect more with PSE/BSE alumni, as well as to Matt's new energy and ideas.
We are also focusing on improving our communication tools with alumni and have set up LinkedIn and Facebook pages for alumni to network and connect. These sites will be enhanced in the coming months; in the meantime, we welcome you to join us!
We would also like to invite you to some upcoming events this academic year:
Distinguished Alumni Seminar Series: Friday, May 6, 2-4 p.m., Anderson Forest Club Room
SFR Graduation: Friday, June 10, 2-3:30 p.m., Kane 120, followed by a cake and punch reception in the Forest Resources courtyard. Alumna Lisa Graumlich, '85, Dean of the UW College of the Environment, will give the keynote speech.
We hope to see you at these events, and please contact us any time with ideas about how you would like to play a role on the FRAA board or how we can best serve you. Feel free to send me an e-mail at: arakerickson@hotmail.com.
Ara Erickson, president
Forest Resources Alumni Association
arakerickson@hotmail.com
Photo by Ramona Hickey