School News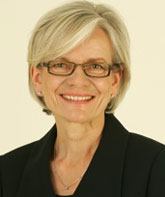 Dean Lisa Graumlich
Graumlich, '85, New College of Environment Dean
Lisa Graumlich joined the UW's College of the Environment as its inaugural dean on July 1. She came to the UW from the University of Arizona, which she joined in 2007 as director of the School of Natural Resources and the Environment. She held faculty positions at UCLA and Montana State University before her stint at UA. Under her leadership at Arizona, the school recruited faculty in emerging fields such as ecological informatics, ecosystem services and ecohydrology and stabilized its resource base. At UW's College of Forest Resources, she did her Ph.D. research in paleoecology, studying with Professor Emeritus Linda Brubaker, on longterm records of temperature and precipitation in the Pacific Northwest derived from tree rings. Graumlich is renowned for her interdisciplinary focus and investigates how ecosystems and human societies adapt to climate change, with a special focus on severe and persistent drought. She is a frequent speaker on climate change impacts and adaptation and, most recently, testified on longterm climate variability before the U.S. House of Representatives Select Committee on Energy Independence and Global Warming.
Faculty News
Faculty promotions effective this month include Josh Lawler, promoted to associate professor, and Sarah Reichard, promoted to professor. Professor Susan Bolton was appointed adjunct professor in the Department of Global Health; Bolton also has an adjunct appointment in the Department of Civil and Environmental Engineering. Associate Professor Sharon Doty was appointed to the Molecular and Cellular Biology graduate program, an interdisciplinary research program that includes scientists from across the UW and from the Fred Hutchinson Cancer Research Center. SFR recently welcomed a new affiliate assistant professor, Daniel Underwood, faculty member in ecological economics at Peninsula College in Port Angeles, Wash.; and a new visiting professor, Johann Koeppel, from the Berlin Institute of Technology's School of Planning, Building and Environment. Koeppel's research interests include examination of policies for sustainable renewable energy in Germany and Europe. He will be in residence at SFR on a Fulbright Award until October.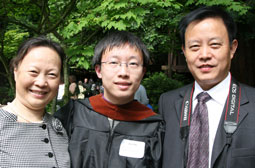 Ziyu Ma, '10, center, with proud family members at SFR's graduation celebration in June.*
Graduation 2010
SFR celebrated its graduating class of 2010 on June 11. Bachelor of science in forest resources degrees were awarded to 73 students, master of science degrees were awarded to 31 students, two students received master of forest resources (Forest Management) degrees, one master of environmental horticulture was awarded, and 10 doctor of philosophy degrees were conferred. The 2010 class has chosen to undertake a wide diversity of careers. Employers range from city, county and private companies to state and national parks and forests as well as tribal agencies. Some students have chosen to work as consultants, for nonprofit or private organizations. Some will work as scientists or environmental specialists, while others will work as forest managers or horticultural landscape designers. Others will become engineers working to solve problems in the paper industry as well as the evolving bio-products and bio-fuels industries. Some will become faculty members at universities across the nation. And some have chosen to continue their education in graduate school. Speakers included the keynote speaker Janet Wainwright, '75, president and founder of Janet Wainwright Public Relations, Inc., a leader in film marketing in the Pacific Northwest.
Paper Science and Engineering Now Includes Bioresource Sciences
SFR's Paper Science and Engineering undergraduate program has completed its transformation into a broader Bioresource Science and Engineering (BSE) program. Program changes were motivated by the recognition that conversion of biomass to fuels and chemicals will become a major industry in the 21st century, and that this is a strategic opportunity for SFR to train engineers for careers in this emerging field. While conversion of biomass to fibers and fiber products will remain a strong international industry, it is anticipated that processes that convert biomass into fuels and high value chemicals will complement and eventually surpass it. In anticipation of this evolving industry, the faculty three years ago restructured PSE graduate and research programs to focus on producing fuels and chemicals from biomass. The graduate program is growing and funding has been secured to build and equip laboratories and pilot areas, as well as for specific research projects. Goals of the new BSE undergraduate program include that its graduates be well trained process engineers with knowledge of fiber processing, the physical properties of fiber webs and the processes required to break down biomass and fractionate components to recover valuable molecules; have a strong background in the physical and chemical properties of biomass; and have excellent problem solving skills. The curriculum is designed to complement the UW's undergraduate program in chemical engineering, and BSE students are encouraged to take advantage of the fifth year double degree option.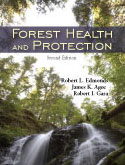 New Edition of Forest Health and Protection Published
Waveland Press, Inc. has just published the second edition of Forest Health and Protection by Robert L. Edmonds, James K. Agee and Robert I. Gara. Widely recognized as the best treatment of the technical issues concerning forest health and forest protection available, the original edition of this comprehensive text was the first to treat fire, wind, insects and diseases, as well as their interactions, holistically. The latest edition extends the thrust of the successful first edition, bringing updated, detailed and reliable coverage by the same team of authors with decades of experience and expertise in the fields of forest pathology, fire ecology and forest entomology. Their effective, integrative approach continues to focus on the fundamental issues related to forest protection, including ecology, forest health and ecosystem management. Useful examples from the United States, Canada and other countries illustrate principles and problems essential to understanding these issues.
Crane Facility Joins USFS Climate Tower Network
The Wind River Canopy Crane Research Facility (WRCCRF) will be included in the U.S. Forest Service's Climate Tower Network. The network currently supports intensive climate and carbon cycle research at more than a dozen sites where ecological and meteorological measurements are taken from towers extending above the forest canopy. As part of a successful national initiative, WRCCRF will enter the network to increase monitoring at Experimental Forests. Precision and accuracy of basic long-term climate measurements (temperature and precipitation) at the crane will be increased to the level of NOAA's U.S. Climate Research Network, and state-of-the-art carbon dioxide/carbon isotope analyzers will be installed to monitor atmospheric CO2 levels. This initiative will last approximately three years, after which research infrastructure improvements will continue to be available for decades to come.
Denman Forestry Program on Forests and the Health of Puget Sound
The Denman Forestry Issues program, "Forest Landowners and the Health of Puget Sound," was held on May 18 at UW Botanic Gardens. Presenters included SFR's Professor Rob Harrison; Washington State Commissioner of Public Lands Peter Goldmark; Tulalip Tribe Natural Resources Commissioner Terry Williams; Cascade Land Conservancy Policy Director Dan Stonington; Family Forest Foundation Director Steve Stinson; consultant John Lombard; and biologists Robert Bilby (Weyerhaeuser), Peter Bissell (U.S. Forest Service), and Tom Quinn (Washington Department of Fish & Wildlife). Denman programs are recorded by UWTV and broadcast nationwide on the UWTV cable channel and the ResearchChannel. They can also be viewed via streaming video at the UWTV website. The series is funded with support from Mary Ellen and the late W. Richard Denman.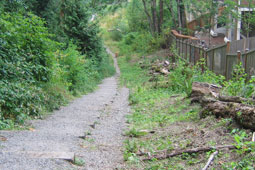 UW-REN Cotton Hill capstone project
UW-Restoration Ecology Network Capstone Symposium
The UW Restoration Ecology Network (UW-REN) Capstone Symposium in June featured student presentations on UW-REN's 2009-10 seven capstone projects. UW-REN is a tri-campus program, serving as a regional center to integrate student, faculty and community interests in ecological restoration and conservation. The projects for the last academic year included a diverse array of restoration initiatives, ranging from work in public parks to projects on the UW campus. A representative project is Cotton Hill Park, a 2.6 acre public park in the Forbes Creek Watershed of Kirkland, Wash., that sits within a single-family residential neighborhood and alongside a rail corridor that may include a regional trail and transit system in the future. The UW-REN project supports an already active community effort to remove invasive species, create habitat and facilitate succession to a low elevation coniferous forest-wetland mosaic. The capstone symposium provides an opportunity for students working on the projects to present progress reports to a public and UW audience.
Yesler Swamp Trail, A UW-Community Collaboration
The Yesler Swamp Trail is a cooperative project of the community and the UW to restore the native plants of Yesler Swamp, located in the Laurelhurst neighborhood of Seattle at the corner of NE 41st Street and Surber Drive—just beneath the tangle of blackberry vines. The trail winds down through the swamp of the Yesler Creek outlet, skirts a lagoon that connects with Union Bay, passes an active beaver hut and returns near the parking lot of the Center for Urban Horticulture. The area serves as fishing grounds for the nearby resident bald eagles and a breeding ground for water fowl. Invasive flora are present and native flora have been planted, but restoring the swamp with more native flora will encourage more native fauna to return. As part of these restoration efforts, the project supports the creation of a handicap accessible natural wetland trail. The trail would offer views of wetlands, the beaver lodge and an enclosed lagoon, while directing human foot traffic away from these sensitive areas. The proposed plan was drawn up by UW plant ecology students in 2004, when initial restoration of native species was performed by a team from the UW's Restoration Ecology Network. SFR faculty Kern Ewing, John Marzluff and Steve West have contributed expertise to the project. The plan is not finalized, and participants are seeking input and support from the wider community who enjoy the trail. See the YouTube video featuring Kern Ewing leading a "swamp walk" along the trail.
* Photo by Ramona Hickey