Did You Know…?
Northwest Environmental Forum Meets Forestry Challenges
In 2003, The UW approved the creation of the Northwest Environmental Forum at the College (now School) of Forest Resources. The Forum was designed as a collaborative space to bring together decision makers and stakeholders to apply science and policy to our region's critical environmental and natural resource management issues. The basic premise was that forestlands in Washington State provide a wide array of products, services and benefits to the state's citizens and beyond, and that this resource faces complex and contentious challenges that would benefit from decision-making in a neutral and science-rich setting. Challenges identified included:
Western Washington forests are being converted when the land becomes more valuable for such things as suburban housing and commercial development. New research says the process in the coming decade could consume more than 300,000 acres of forest, an amount of land comparable to five cities the size of Seattle. As much as 90 percent of some western Washington watersheds will be lost.
After suffering through drier and warmer conditions in excess of 100-year historical ranges, Eastern Washington's brittle forests are ripe for insect infestation and wildfires.
A $16 billion-a-year industry is transitioning through arbitrage-based transfers into much more complicated financial ownerships.
The forum has established a solid record of collaboration and partnerships. Its work has resulted in enhanced tools for policy making and a renaissance of trust among an alliance of family forest owners, nonprofits, land trusts, tribal nations, timberland companies and government agencies that supports a common goal—maintaining forested landscapes in an urbanizing and climate-altered world. The forum has convened thought leaders and scientists in extended dialogues to consider adaptive strategies to retain working forests on the landscape. The UW reputation for science and impartiality has helped establish common understandings of issues and outcomes from diverse views and approaches that include no action, preservation and varying degrees of management and utilization. Small group discussions enhance the forum dialogue and enlarge the analysis of alternatives to consider the social and economic benefits derived from our forests. The forum is not a negotiation or mediation, but a resource that creates a science basis for policy discussions among experts who acknowledge that their differences have the potential to create conflict but that their interests can be complementary.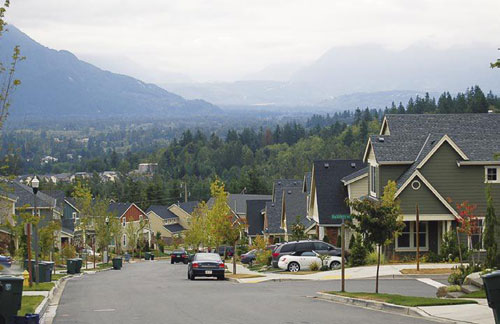 What once was forest is now housing in the Puget Sound region.
Forum meetings have typically engaged 80-90 participants, with about 500 total attendees from more than 90 organizations since 2004. The first two-day forum, "Saving Washington's Working Forest Land Base," held in November 2004, developed a common understanding of the influences on working forests and examined financial options for their management. As a direct result, the 2005 Washington State Legislature appropriated $1 million for a UW study of timber supply, industry competitiveness and the impacts of forest land losses to development pressures. Study findings were then reported to two 2006 forums, which resulted in new recommendations. In response, the 2007 Legislature appropriated $0.5 million for research on working forest land retention, and requested recommendations from the forum. The concept of "anchor forests" was discussed first in the 2008 Forum when a new Land Parcel Database of the State of Washington became available, funded by a grant through the Family Forest Foundation. The database showed that certain forests were critical to water and other resources, and demonstrated the extent of past and potential forest land losses due to inequities between forest and non-forest real estate values. In 2009, a forum on Forest Health addressed an actionable strategy to restore and maintain the ecosystem services of Washington's eastside dry forests. In 2009, the Legislature allocated another $0.4 million for research, including forest bio-energy assessments from forest residue and paper mills. The 2010 Legislature authorized Washington Department of Natural Resources (WADNR) forest biomass pilot projects and passed "right to practice forestry" legislation that was proposed by the Forum. The 2010 Legislature also passed ESHB 2541, to "assist forest landowners in accessing market capital and financing for the ecosystem services provided to the public as a result of the protection of public resources." WADNR must report its examination of ecosystem services incentives to the legislature by the end of 2011. A legislative task force has also begun to look at technical funding assistance to landowners.
What comes next? Forum participants have agreed that a strategy is needed to improve forest resilience in the face of climate change, reduce greenhouse gas emissions, reduce fire damage and danger, promote rural economic stability, increase the availability of forest-based renewable energy and protect fish and wildlife habitat. But such a strategy needs to extend across ownerships to ensure the existence of anchor forests. Federal lands are of particular importance. Forest structure and composition have changed significantly in dry forests of eastern Washington. High densities of dead and moisture-stressed trees increase potentials for the spread and intensity of fire, disease and insect outbreaks, leading to massive environmental degradation, higher costs of management and greater atmospheric pollution. The capacity of these forests to withstand projected reduced precipitation and elevated temperatures under a climate change scenario is very much in doubt. In 2010 and 2011, the Forum will have additional opportunities to consider anchor forests and ecosystem market incentives for forests.
The next forum, in October 2010, will strive for a "game-change" to create a mechanism to benefit forest landowners for contributions to water and biodiversity values and to promote forest retention. The forum will be aimed at finding a transformative strategy to create incentives and to identify a reliable source of funds for these purposes and a "gatekeeper" to protect the source. This will be an important dialogue that will shed light on landowner differences and landowner payment preferences, and focus on water and, possibly, biodiversity. Says forum Director Brian Boyle, "With its market-centric focus and landowner constituents, the forum is the best place to have an open consideration of preferences and possibilities and to consider major 'game-changing' strategies. What we come up with can galvanize action to use the markets to save the future of Northwest forests."
Get more information on the Northwest Environmental Forum, including proceedings of its meetings.