'Stroll' UW Campus on Updated Brockman Tree Tour Website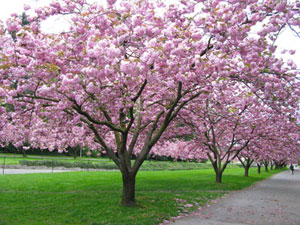 Kwanzan cherry trees in the UW quad
The Brockman Memorial Tree Tour, a popular UW campus feature, is dedicated to the memory of the late Emeritus Professor C. Frank Brockman, who was on the Forest Resources faculty from 1946 until his retirement in 1967. In 1980 he produced the original UW tree tour booklet, edited by Louise Hastie, as an issue of the publication University Report. The eight-page publication, which included photos and scientific information, as well as the history of significant specimens, featured 81 campus trees and had to be reprinted several times by popular demand.
In 1995, the tour was updated as part of a public artwork—visual artists Suzanne Hellmuth and Jock Reynolds designed two bus shelters and the Medicinal Herb Garden's volunteer center on Stevens Way, deliberately creating openings in the shelters that "frame" nearby trees. Arthur Lee Jacobson, local plant expert, rewrote the tour booklet using Brockman's original photos, and the Campus Arts Office developed a tree tour website. SFR Emeritus Professor Dale Cole, '55, '63, and the late Professor Emeritus Stan Gessel assisted with the editing. Over the years, trees in the tour have been removed for a variety of reasons, including safety and construction needs, and the tour needed updating.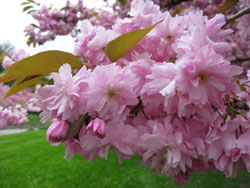 Kwanzan cherry tree in bloom
The tree tour website has been updated by Carly Thornburg, '10, who did the work as part of the capstone project for her BS in Environmental Science and Resource Management at SFR. The website, an adaptation of the printed tour, is intended to increase personal and public appreciation of this extraordinary living botanical collection. Thornburg provided all new photographs of every tree in the tour, including photographs showing foliage in different seasons. Now each web page in the tour contains photographs of how the trees currently appear, as well as updated text. Trees that no longer exist, or that will be removed during upcoming campus construction, have been removed from the tour. The updated site also provides two new printable versions of the tour, as well as an audio version that can be downloaded to a mobile device or accessed via mobile phone. The website's pages have been kept simple, to accommodate the use of mobile web browsers. A Google Map of the tour, featuring satellite imagery, was added to the site by David Campbell, SFR web developer.
Access the Brockman Tree Tour site and take a "stroll" through campus. You will be rewarded with a solid overview of the many beautiful tree specimens flourishing on the UW campus.
Photos by Carly Thornburg