School News
Evelyn Brockman
In Memoriam
Evelyn Brockman, widow of Emeritus Professor C. Frank Brockman, passed away on Feb. 3, 2010 at age 100. A longtime friend of CFR/SFR, she was pleased to see the memory of Professor Brockman, a beloved faculty member from 1946 until his retirement in 1967, kept alive with the School's Tree of the Week display and the UW's Brockman Memorial Tree Tour. She had recently visited SFR and the tree tour, and was delighted that the tour's website is being updated this year as part of an undergraduate capstone project, with trees added to replace those lost since Professor Brockman established the tour in 1980. Alumni and friends over the years have generously contributed to the C. Frank Brockman Endowed Scholarship, and the family requests that memorial gifts be directed to this fund.

Bjorn Hrutfiord

Emeritus Professor Bjorn Hrutfiord passed away on Feb. 16, 2010. Born in Bellingham, Wash., in 1932, Hrutfiord earned his Ph.D. in chemistry at the University of North Carolina at Chapel Hill in 1959. He joined the UW College of Forestry's pulp and paper faculty in 1965 and worked until his retirement in 1998. He will be remembered as an outstanding chemist and an excellent teacher, and for his dedication to students and young faculty members. He was a tireless advocate and leader for more effective ways to provide the best educational experience for students in SFR's Paper Science and Engineering (PSE) program. In appreciation, Hrutfiord was honored by SFR's Alumni Association as an Honorary Alumnus. Memories of Hrutfiord include those from former students and colleagues such as SFR's Interim Director Tom Hinckley, who remembers from his student days Hrutfiord's willingness to help graduate students by teaching extra courses in biochemistry; and by retired SFR/WSU Professor and Extension Forester Don Hanley, who was privileged to see Hrutfiord in a different light—as a small forest landowner—visiting with him regularly about his woodlands in Whatcom County. The family requests that memorial gifts be directed to the Washington Pulp and Paper Foundation's Bjorn Hrutfiord Scholarship, which benefits students in the PSE program.

Emeritus Professor Barney Dowdle, '57, passed away on March 24, 2010. Born in Burlington, Wash., in 1928, he got his B.S. in forestry from the UW in 1957. He was a member of Phi Beta Kappa and was unanimously selected to receive the St. Regis Graduate Fellowship Award to attend Yale University, where he earned his Ph.D. He then joined the UW College of Forestry faculty, a position he held for 37 years before retiring in 1999. Dowdle's research and education focus was on forest land values and forest taxation. Emeritus Dean Bruce Bare remembers Dowdle as a teacher, colleague and friend. "His intellect was a tremendous asset to the forestry profession and he made one pause to reflect on the basic tenets of forestry as practiced in North America. His contributions were numerous—especially his ability to challenge students to think critically and to form sound arguments in support of their beliefs."

Richard Walker, emeritus professor of botany and adjunct professor of forest resources, passed away on March 29, 2010. During his years at the UW, he served as chair of the Department of Botany and as a director of the biology program. He held an adjunct appointment in the College of Forest Resources from 1977 to 1985, and was a much loved colleague and friend. An expert in plant water relations and mineral nutrition, with a Ph.D. from the University of California, Berkeley, Walker taught plant physiology for many years, and worked closely with two prominent former members of the faculty, the late Emeritus Professors Stan Gessel on forest soils and nutrition research and David Scott on whole tree carbon and water relations. When Emeritus Professor Leo Fritschen received funding to install a measuring lysimeter system on a full grown Douglas-fir tree, Walker and his graduate students assisted in measuring responses. Walker was a major member of the M.S. and Ph.D. committees of dozens of graduate students in Forest Resources. He also chaired a committee that raised funds for SFR's Gessel Endowed Scholarship, a fund benefiting soils science students and a fitting memorial for those wishing to honor Walker by supporting UW students.

New Faculty Welcomed
SFR recently welcomed a cohort of new affiliate, adjunct and postdoctoral faculty appointments. Among them: Affiliate Assistant Professor Evan Girvetz, a senior scientist for The Nature Conservancy, who will continue working with Assistant Professor Josh Lawler's lab on further development of the ClimateWizard project, as well advising undergraduate research projects and giving guest lectures; Affiliate Professor Douglas Martin, of Martin Environmental and Affiliate Associate Professor Todd Pearsons, of the Grant County Public Utility District, both fisheries biologists, who will collaborate with SFR on water conservation and management and fisheries habitat research. Associate Professor John Banks, faculty member in UW Tacoma's Interdisciplinary Arts and Sciences program, has been appointed affiliate associate professor, formalizing his long-time collaboration as the UW Tacoma campus coordinator of the tri-campus UW Restoration Ecology Network. Postdoctoral research associate appointments include Diane Styers, who will conduct research related to urban forest health, ecosystem health and human health, hosted by Assistant Professor L. Monika Moskal's Remote Sensing and Geospatial Analysis Laboratory; and John Withey, '02, '06, who will work with Assistant Professor Josh Lawler on developing a modeling approach to analyzing the effects of land use changes.

School Co-sponsors UW Conservation Colloquium
SFR co-sponsored a UW-wide Conservation Colloquium on March 3, 2010 that showcased the breadth and depth of the UW's conservation research and outreach. Societies around the world are grappling with the implications of global warming and climate instability, loss of biodiversity and habitat, energy and resource depletion and the allocation of global resources. The colloquium, made possible by a gift from Harriet Bullitt to the College of the Environment, highlighted practical solutions contributing to the conservation of healthy species and intact ecosystems through research, scholarship, practice and teaching. Assistant Professor Jon Bakker chaired the event; SFR contributions from faculty, staff, students and alumni ranged from presentations on Washington forest stewardship education to species and ecosystem vulnerability to climate change to traditional ecological knowledge and its relation to wildland fire science. Abstracts from the colloquium are available online.

Gary Machlis
Gary Machlis Gives SFR Distinguished Alumni Seminar
Gary Machlis, '75, professor of conservation in the University of Idaho's Department of Forest Resources and science adviser to the director, National Park Service, visited the UW campus in late April to speak at SFR and at the Department of Global Health. On April 23, 2010 he gave SFR's Distinguished Alumni Seminar, "On the Shoulders: An Interdisciplinary Life in Conservation, Science and Politics." The seminar series is intended to help SFR students understand and appreciate the kind of real-world work and roles they can assume after graduation, and showcase alumni who during their careers have been leaders in the private, public and nongovernmental sectors in the U.S. and abroad. Machlis was instrumental in developing the Park Service's social science program and from 1998-2006 was the national coordinator of the Cooperative Ecosystems Studies Unit, whose Pacific Northwest unit is housed at SFR. His appointment as the first ever National Park Service Science Adviser will help the agency use the best available science to address complex natural and cultural resource challenges, from climate change to science education for youth. Machlis' research expertise also includes the ecology of warfare, and during his UW visit he participated in the Department of Global Health-sponsored International Conference on War and Global Health.

Dave Peterson
Dave Peterson's Sustaining Our NW World Lecture
UWTV has completed programming production on the March 11, 2010 Sustaining our Northwest World Series lecture, sponsored by Forest Resources, the College of the Environment and the UW Alumni Association. The lecture, "Climate, Forests and Future: A View from Treeline," featured U.S. Forest Service Research Biologist and Forest Resources Professor Dave Peterson, who talked about climate change effects in Northwest forests, including forest composition and biodiversity, rampant insect attacks and longer fire seasons, and the interdisciplinary collaboration among scientists and land managers needed to predict and adapt to these challenges. A UW press release, "Traumatized Trees: Bug them enough, they get fired up," covers recent research on Pacific Northwest forest health by Peterson and other UW scientists. Check the UWTV website for air date and streaming video information.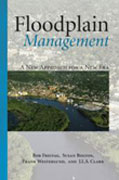 Susan Bolton Co-Authors Floodplain Management
Professor Susan Bolton is co-author of Floodplain Management: A New Approach for a New Era, published by Island Press. Other authors are Bob Freitag, Frank Westerlund and J.L.S. Clark. The book outlines a new paradigm for flood management that emphasizes cost-effective, longterm success by integrating physical and biological systems with societal capabilities and suggests that a better solution is to work with a river's natural tendencies. Bolton, whose research focus is hydrology and watershed management, is also a faculty adviser to the UW Engineers Without Borders chapter.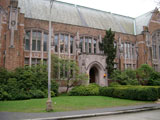 Anderson Hall Renovation in Predesign Phase
Anderson Hall, a gift to the UW from Agnes Healy Anderson in memory of her husband Alfred H. Anderson, was constructed in 1925 to house the forestry program at the UW. Although the building had a partial interior renovation in 1968, Anderson has not had a major infrastructure upgrade in over 40 years and some of its systems are older. Its renovation has been prioritized for capital funding as part of the UW's ongoing "Restore the Core" program. The project will improve seismic performance, accessibility, safety, maintainability, energy and water consumption, and provide other modern sustainable building standards, as well as reconfiguring interior spaces to improve the building's efficiency and functionality. The Board of Regents confirmed the UW Architectural Commission's recommendation for the firm Mahlum as the architect for the project, due to begin construction in 2013. The project is now in the predesign phase. The Mahlum team, in its proposal and predesign presentations, has emphasized its intent to preserve the legacy of the building, while working in the context of a flagship project for successful implementation of the UW's Climate Action Plan in a historic renovation.
Graduate Student Research Symposium
SFR's 7th Annual Graduate Student Symposium was held on Feb. 19, 2010 in Anderson Hall, with a keynote speech by Jeremy Littell , '06, research scientist with the UW Climate Impacts Group. Student presentations ranged from "Restoring Highly Degraded Habitats for Rare Species in Puget Sound Prairies," to "Nitrogen Fixation in Poplar: Increased Efficiency of Bioenergy Crop Production" and many more. Streaming videos of the presentations are available online.