Facts & Figures: Wind River Canopy Crane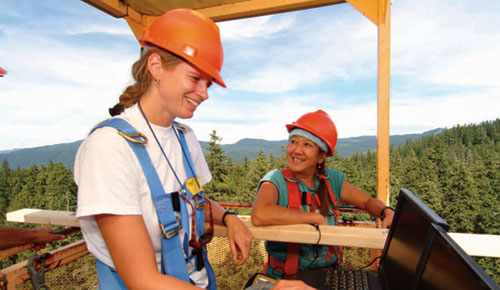 Stephanie Bohlman, '95, '04, left, and research scientist Gail Yamada. Bohlman is now a postdoctoral research associate in ecology and evolutionary biology at Princeton University.*
The Wind River Canopy Crane Research Facility, a 285-foot tool that takes scientists into the crowns of over 300 old-growth trees, stands in southwest Washington's Gifford Pinchot National Forest near the Columbia River Gorge. Erected in 1995 as a cooperative venture of the USDA Forest Service and the UW, the crane's day-to-day operations are managed by the School of Forest Resources.

Professor Jerry Franklin is the facility's program director, Ken Bible, '01, is the site director and Frederick Meinzer, USDA Forest Service and Oregon State University, serves as research team leader and ecologist.

The crane was the third canopy crane erected in the world. There are now eleven, but it is still the largest and the only one located in a temperate forest.

From the gondola of the crane, scientists gather samples, install instruments and conduct experiments in the canopies of trees as tall as 215 feet. The gondola operates in a 279-foot circle, giving researchers access to nearly six acres of old-growth canopy.

The crane operates in a stand that is typical of old-growth Douglas fir and western hemlock forests that once covered much of the Cascade Mountains in Western Washington and Western Oregon. The forest originated hundreds of years ago, probably after a fire. The oldest trees are 500 years old. The tallest are between 180 and 220 feet. Other tree species include western red cedar, western white pine, Pacific silver fir and grand fir. The lower tree canopy includes Pacific yew and Pacific dogwood. Shrubs include vine maple, salal, dwarf Oregon grape and vanilla leaf.

Birds include brown creepers, winter wrens, warblers, juncos and cavity nesters such as chickadees, red-breasted nuthatches and hairy and pileated woodpeckers. Spotted owls nest in the Gifford Pinchot National Forest but no pairs are found in the crane area. Cavity nesting mammals include bats, weasels, martins and flying squirrels. Thus far, the Douglas squirrel is the most often sighted animal. Large mammals include bear, elk, bobcats, deer, cougars and coyotes.

Research has been conducted in the Wind River Experimental Forest where the crane is located for over 100 years, starting in 1909, when a nursery was first established at Wind River. Workers and scientists have conducted hundreds of experiments and field studies on nursery practices, seedling survival and growth, genetics and the ecology of Douglas fir forests. Ongoing research databases at the site include microclimate monitoring, species diversity, a soils survey and plot and tree data. Projects are also examining carbon flux, or the carbon being absorbed and released by the forest.

The crane site has been selected as the core site for Pacific Northwest Domain of the NSF-funded National Ecological Observatory Network (NEON). NEON is a major initiative to provide 21st century environmental scientists with the research platforms—infrastructure and data sets—needed to scientifically explore the impacts of climate change, land-use change and invasive species on ecosystems and ecological processes.

Although research is the crane's primary function, education is an important objective. Educational activities have included cooperative learning programs with high school biology courses, Earthwatch Student Challenge Awards, educational lifts for professional and university classes, guided walking tours, K-12 classroom visits, interpretive displays and TV, newspaper, magazine and book features. In March 2006, an electronic field trip offered through Ball State University allowed more than 20 million students, teachers and community members to "visit" the crane to learn about forest ecology and the technology available to study it.




For media stories involving the Wind River Canopy Crane, see "Scientists use massive crane to study troubled forests from above," "Trees giving bizarre clues to climate change," and "Scientists Take to the Trees to Measure Global Warming."

For a "birds-eye" view from the crane's tower, you can use the facility's web cam website link to control the camera mounted on the crane, giving you a sweeping panorama of the surrounding old-growth forest!
* Photo by Mary Levin